So you are thinking of making a career in biotechnology but are not sure whether it is the right line for you? Let us get up close with this interesting stream of science from a career perspective and evaluate the employment and growth opportunities here.
Biotechnology is the applied form of many scientific principles and therefore lends itself to myriad forms and opportunities in its practical sense. From a career perspective, it holds huge potential as the applicability aspect opens up windows to many domains and functions not just restricted to research and development. The post R&D functions like manufacturing and quality control also are critical elements as are the more commercial activities like sales and marketing. This, in itself, means that biotechnology is not just a laboratory work area but holds out a wider scope for employment outside of it as well.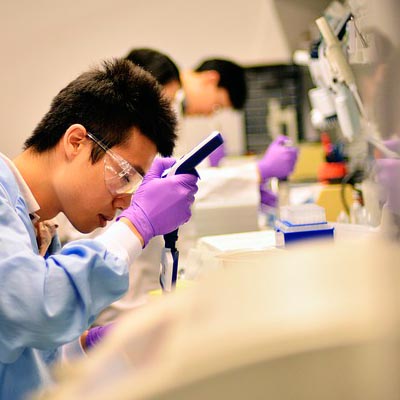 Some of the applied examples of this fast growing industry include sectors ranging from medicine to diagnostics, agriculture to food, therapeutics to environment science, among many others. Whether it is in the molecular biology line or the pharmaceutical sector, there are jobs opening up regularly. There is an increasing demand for biotechnology graduates to join cutting edge companies as research associates, technicians, process engineers and laboratory assistants, to name a few designations up for grabs in organisations domestic and international, small and large.
So, if you are good at science or math and have a natural orientation to technology and are inquisitive by nature, biotechnology could well be your calling. Needless to say, it is not just plain academics that you need to excel in. While that is a given, the ideal candidate to do well in this stream has to be someone with a thirst for knowledge. After all, science and its applied fundamentals are constantly evolving and it requires a student with a considerable will to learn and update oneself to excel here. A person looking to make a career in biotechnology should also possess certain personal skills like
Personal Skills Needed
An enquiring mind
Good problem-solving skills
High level of accuracy
Attention to detail
A course in biotechnology will be a good starting point once you have a solid foundation in science and technology earlier on. There are several leading institutes that offer this course in South Africa. These courses help hone not just the scientific and technological tempers of students but also introduce them to and train them on the more applied aspects like manufacturing, sales and marketing. An MBA degree in this stream is helpful to those with an entrepreneurial goal in mind. There are certificate programs, besides the usual bachelor's and master's degrees and even PHDs that further the academic side.
Becoming a researcher, a scientist, a consultant or even a professor is a natural progression for anyone who has studied biotechnology. Those with an interest in a specific field like agriculture, life sciences, food technology, environment etc. could land up jobs in any of the departments – R&D, manufacturing, marketing and others. In South Africa alone, there are well over 1500 companies in the biotechnology sector, with close to 40,000 jobs – figures that can only go up. The salary levels are also getting very attractive, what with the presence of more multinational firms and competition.
With its all-pervading nature, biotechnology is touching more and more areas of our lives. From breakfast cereals to processed food, forensic science to space research and fashion to entertainment, this is a field that continues to spread its wings and grow. For the skilled and the well-trained biotechnology aspirant, this discipline continues to open up more job opportunities both at home and abroad, as academicians, professionals and entrepreneurs alike. The relentless growth in technology and its impact on life sciences should mean that a career in biotechnology will not just be exciting but rewarding, as well.