When you work in sales it's so very easy to get discouraged when you look at the calendar and realise you are probably not going to reach your income and sales goals for the month. If you are fortunate enough to work for a company that can generate excellent sales leads for you – that's great. However in many cases, that doesn't always happen and you may find you have to find those leads all by yourself.
In order to be a success when it comes to business sales you need to talk to more people and ideally you need to talk to the leaders and decision makers in the industry or business you are targeting. Unfortunately in sales it often seems to be that sales people are hesitant to make cold calls. This comes down to people not liking to feel rejected, if they don't get a lead within a call or two they just get dejected and give up.
Cold calling is hard work, but it can be very rewarding – first you need to target the right people, in the right industry, and if you don't do this in the first place you are just setting yourself up to fail. If you take the time you'll find there are many free resources available online that helps sales people to target their audience effectively. Once you find access to industry leaders then you can look at the top organisations and their competitors to target and straight away you have a prospective list of customers.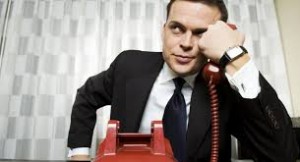 There are many ways to target the right people or companies and this is simply by using sites such as LinkedIn and online databases including Onesource, Jigsaw, and Spoke all offering up to date and fresh lists of people you can call.
Now that you have your list of companies and contacts the next step is to develop a good 20-30 second sales pitch for when the right person has picked up the phone. The best people (targets) might only be available first thing in the morning or later in the afternoon so get organised and make your calls very first thing in the morning – or any higher level people during the working day.
The best way to get their attention is to say you'll be brief which will help you get to the point and the reason for your call. If you can set up enough interest in this initial call it will lead to a follow up call with a chance to demonstrate your product. Ask to make sure that you are speaking to the right person, in the right role, as information may be out of date. If the information is incorrect, ask if they can put you onto the right person. If you are polite and they give you the contacts name and number when you do call you can say that you had just spoken to *Sarah* and she has given me your number – it's a great way to turn a cold call into a successful call.
Are you in sales? Have you or do you use cold calling to contact potential clients or customers? If so, how do you find the work? Do you have any advice you can add?