What *does* a financial trader do? Overall they might perform a range of tasks which include – gathering information on government regulations, the financial circumstances of clients and market conditions. Prepare lists of clients investments, analyse and interpret information from securities reports, calculate and record the cost of transactions, provide information or give advice about market conditions, stocks, bonds, and the history and prospects of corporations, give buy and sell orders and review their clients existing investments and if necessary suggest changes.
Financial traders might also choose to specialise within their industry and become a Merchant Banker for example.
You will need a good sound knowledge of – or have studied economics, Maths and English and you would be required to work inside an office. Your level of English, reading and writing should be high as you need to not only prepare but understand letters and reports. The various positions a financial trader can fill include accounting, sales and valuation, administration, real estate, advertising, public relations, banking, policy advice, distribution, personnel management, economics, marketing and finance.
If you have an interest in working with ideas such as investigating or seeking solutions to scientific, technical, social or other issues, and can observe, research and analyse and interpret results you would be suited to a career as a financial trader. Some other skills or interests suited to the job are being able to work well with people, discuss issues, listen to people's problems, and provide information and instructions. You must also love data facts and figures, be able to organise and update files and accounts.
Being a financial trader is a professional career and would require you to have a recognised Bachelor Degree or extensive and relevant experience, Some jobs within this industry may require that you have post-graduate degree  of study such as a Master 's Degree, Graduate Diploma or Graduate Certificate.
Financial Traders work in stock exchanges and in offices and work long hours often hours that coincide with the operation of Stock Exchanges.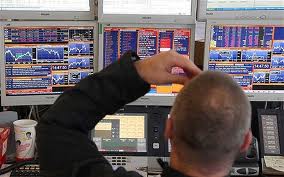 Personal requirements for the job include – good math skills, and interest in the financial market, great communication skills, analytical skills, be able to make accurate calculations quickly, have good research skills, be computer literate and most importantly be able to work under pressure.
Related jobs include accountant, insurance investigator, bank officer, insurance broker, economist, insurance agent, financial dealer's assistant, financial planner and as a financial institutions branch manager.
If you are now looking to change jobs or get work as financial trader some sites you can take a look at include efinancialcareers.com.au, Finance Jobs, or visabureau.com. Make sure your resume is up to date and you have the skills and qualifications needed.
Do you work as a financial trader? Have you worked in the industry? Do you have any advice you can share with us to help make it easier for any of our readers who are looking at entering the industry? We'd love to hear your experiences – good or bad.