Many people have trouble writing their first resume, therefore, if you are stuck with this task, you are not alone. However, writing your first resume does not have to be a daunting task provided you understand what the goal of your resume is, which is to create interest and interviews. This document does not have to cover your entire life or get you a job. It simply has to attract the reader's attention and help them determine whether you will add any value to their company. If you create a resume that effectively helps in this by communicating your strengths in a clear manner, you will then have employers wanting to meet with you.
Before getting started with the resume writing, you should research job postings. Knowing what prospective employers want from candidates will help you demonstrate your value. Research job postings that are important to you and check out the requirements frequently mentioned. Inquire from experienced professionals what it is that they consider crucial when making hiring decisions. Read professional websites and publications that are related to your industry of concern so as to find out as much as possible. After you are aware of what matters to employers in your target industry, write your resume making sure that it addresses those issues.
Things to Have On Your First Resume
Many recent graduates and students worry about not having adequate information to write a convincing resume but this should not bother you. Once you get down to writing, you will be surprised how much information you have. The things to include on your resume should be guided by your own exclusive skills, background and experiences.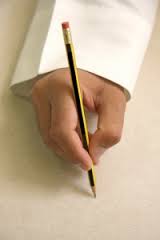 However, there are several things that should be included in a general resume guideline among them technical and computer skills, educational accomplishments and other related accomplishments, positive personal characteristics, coursework relevant to your interested profession, skills and experience attained during internships and work history (including volunteer work provided it relates to your targeted position). The important thing here is to focus on things that express your value and to avoid those that do not. Hobbies are not important unless they relate to your goal directly.
Designing Your Resume
Many people are not aware that resume design matters just as much as content. According to research, your resume has just 20 seconds to create the right impression, hence it has to be attention-grabbing and easy to read. There are many resume books that can give you ideas for resume layout and structure. In these books, you will find different examples of well-written resumes and will assist you decide on which approach is best for you.
When writing your first resume, always remember your reader and their basic concern, which is to determine whether or not you will add value to their company. To come up with a resume that will get you interviews and open the right doors, you should give the reader an appropriate answer by highlighting personal characteristics, relevant skills and experiences, and accomplishments. Remember, things that do not demonstrate value should not be included in your resume.