If you are thinking about undertaking some home improvements and want to use Uptasker to wrangle yourself an excellent carpenter, it is important that you know which trades professional is the right person for the job. In this article, we highlight some key considerations when choosing the right carpenter. Moreover, we will share with you some of the most common pitfalls when hiring a carpenter in South Africa.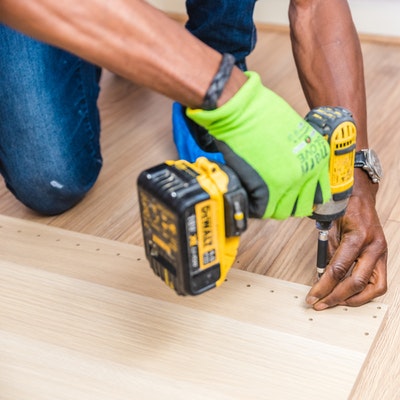 Not all carpenters are created equal
Most people's understanding of carpentry is that it involves woodwork. While, for the most part, this is true, today carpenters utilise a variety of building materials. The type of work a carpentry professional specialises in, much like their material, is widely varying. For this reason, you should never treat every carpenter as one and the same. Here are a couple of examples of work that might require a carpenter and what type will work best in each instance.
Decking your garden – The best type of carpenter for this work is a finish carpenter. A finish carpenter specialises in adding the final touches to a house. They will more than likely come in at the end of a job to build in fixtures such as wardrobes and bookshelves. A finish carpenter is all about the aesthetics so when you are seeking someone to deck out your garden, look for indications that they specialise in finishing.
Building an extension – A rough carpenter or first fix carpenter, as they are sometimes known, will specialise in structural carpentry work. They will create concrete forms, construct floors and walls, with the aid of blueprints. A rough carpenter should be analytical and demonstrate the ability to read intricate drawings.
Large-scale renovation – If you are planning on undertaking significant repairs or home-improvements, you will probably require a team of tradespeople. Ideally, when choosing your carpenter, ensure that he is a master in his field. To be deemed a master carpenter, a person must have reached the highest level of their trade and demonstrate the ability to conduct works in all areas of carpentry, from form work and repairs to finish.
Qualifications
A qualified carpenter is South Africa will possess formal training, which is recognised by the South African Qualifications Authority. Furthermore, they will have extensive site-based training. If you want to check the required skills and training for your carpenter, visit SAQA website.
Quotes
The cost of the works you wish to have undertaken will likely vary from carpenter to carpenter. We recommend that you seek a minimum of three quotes when searching Uptasker for your tradesperson. While having a range of quotes to choose from will enable you to select the most cost-effective one, there are some other benefits.
The timeliness in which each carpenter responds to your request can give an indication of their level of motivation for your business. You can also gain some sense of the level of customer service that you might expect to receive. Essentially, seeking multiple quotes helps you separate the wheat from the chaff.
A quote that is considerably more expensive than the others may indicate work that you had not considered but may benefit your home improvement project. Don't immediately discount higher quotes; send a further enquiry to your trades person to ascertain what the point of difference is in what they can offer you.
A common mistake that we all can make is immediately seeking out the cheapest product or service. When it comes to making structural and aesthetic changes to your property, the cheapest is certainly not always the best. Quality carpenters will charge higher prices than the average tradesperson, so try to demonstrate some flexibility in your budget. Excellent carpentry is an investment; shoddy workmanship won't stand the test of time and will end up costing you more in the long-run.
Portfolio of work
A proud trades professional will be happy to show you his past work. Most carpenters will take before and after pictures, and some will even have their own website showcasing their mastery. Don't be afraid to ask for some examples of completed jobs; if you are particularly dubious about engaging someone to undertake renovations in your home, you could even request a reference.
If you are met with reluctance, it is likely that this carpenter is not the one for you. Anyone worth their salt will be happy to share proof of their experience, and will not take offence if a potential customer asks for it.
Continuous Professional Development
Most competent carpenters will realise the importance of continuing to develop their skills, and so another way to whittle down your Uptasker quotes is to ascertain what your potential tradesperson's level of understanding is regarding processes or expertise in carpentry. Ask your joiner what his or her favourite technique is in flooring, for example. You might not know anything about flooring, but you will know whether someone is confident in what should be their area of expertise!