Have you got that feeling of 'something must change at home' or perhaps the determination of 'I need to change my space' and you don't know how or where to start? Perhaps you think of your budget and it seems too unsubstantial to interior design your house or all of your living spaces. What if, by considering and changing some aspects of your home, you could create your dream interior design?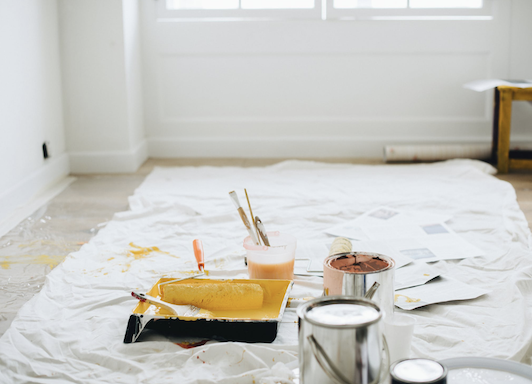 DIY interior design can be risky at times; however, whatever your tendency towards interior design, these elements can help you renovate your most cherished spaces and create the interior design of your dreams. 
There are so many ways in which you can give colour to your living spaces. It can range from painting your entire walls to having certain objects with a specific tone that brings the essence you wanted to have. The first step to making this happen is deciding the scheme colour you want. Even if it's a monotone scheme or a full-colour scheme (with a large variety of colours) this decision is vital to proceed onto the next one. 
The next step would be defining the type of atmosphere you want to create. Crazy, right? Who would've thought that you could create a different atmosphere based on the type of colours used? This one depends as well on the layout of your living space. Do you want to create more light? Or make it feel like a bigger space?  Perhaps you want to create a joyful atmosphere.
Do whatever suits you more, whether it be painting a single wall with a type of colour; painting all of them or just painting the ceiling. Perhaps it's finding the elements with a specific tone that can bring the essence you want. Thinking on this particular area of your interior design can bring a whole new feel to your home.
Are you the type of person that knows 
how to set goals and stick to them
? Budgeting, for example, isn't my strength. Perhaps it's yours! Strength or not, there is no need to refurnish your entire living space to make it feel new, fresh or trendy. Consequently, you don't need a big budget to renovate your space. So then what you need to know is how to read your area and how to define it. 
'Reading the space' means being aware of the space you want to interior design, acknowledging its elements and conditions, and then deciding if you're going to add furniture or take away some things you don't need. 
Another guide you could use for doing this is  knowing how you want to use your space
. For example, if you love reading and you love your bedroom light, perhaps you can get rid of the furniture that you don't need as much in order to fit in a comfy reading chair.
Perhaps, as a family, you spend a lot of time together
 and you lack a family area at home; maybe the right furniture in your living room could do the job. What are those things you could switch around that can furnish your needs and bring a trendy vibe to your space?
Have you had the feeling of, "I love my space but…"? Is something missing? Perhaps what you're missing is the right lighting! And don't worry, not many people are experts on lighting. Having the proper light isn't as easy as it sounds, though it's possible! 
There are different ways for 
lighting up your living spaces
! What matters is focusing on what you want to bring to your space. Is it a space focused on a task, like a kitchen? Perhaps you can have some spotlights that can help you to see better, or add some LED strings to specific areas in your kitchen.
Maybe you are the type of person that likes to have a lot of decoration and ornaments on walls. You can highlight them with specific lighting. What is it that you want to do? Be creative and light up your ideas to renovate your space!
If you are someone that follows fashion trends, you will understand this segment. Dressing up your living space to your style has to do with finding the elements that represent who you are and bringing them to your space. This element could be things for your wall, ornaments, accessories, and any other feature that you can add to your room. 
Perhaps your style is filling up a wall with frames, images, mirrors or with whatever your imagination and creativity leads you to do. Maybe it's a vinyl design or an exotic light chandelier. Or perhaps you love to travel, and you want to show off the uniqueness of your souvenirs. 
What's the style that will define your space and what you like?
There are different ways to experience the space; therefore, if you're the
 type of person that likes touch, experiencing the texture or surface in your living room will be your type of thing. The texture is what gives motion, feeling and touch to space. What it means is that it brings the roughness or smoothness to the area through your elements.
Perhaps you can give this texture to your space through the velvet sofa, or maybe it's the rug that hangs on your wall. Or perhaps the only thing you need is that wooded-texture desk on your office. 
Colour, furniture, lighting, accents (or decoration elements) and textures can be the answer to your needs. Perhaps it's only one that you need to consider changing, or maybe it's
 a combination of them. Be bold and do it yourself! What is the element you think must change to create the interior design you've been dreaming of?