Cookery is trendy again it seems with shows like Neill Anthony Private Chef making TV waves. It takes more than just excellent skills (and good looks) in the kitchen to become a commercial caterer, however. In this article, we round up some essential tips to help you start a catering company. If you are seeking a caterer for an upcoming event, you can get catering quotes here.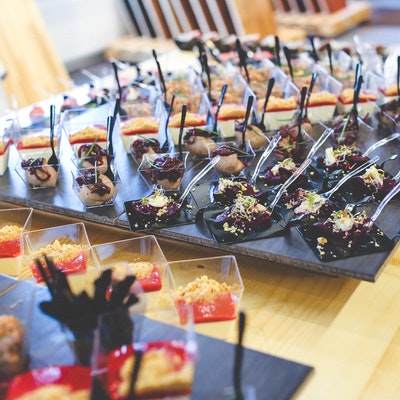 Food Safety
Should you wish to start a career in catering, remember food safety is imperative. Understanding food safety is more important than your cooking ability. In South Africa, businesses are legally required by Regulation R638 to have an effective food safety system in place. One way to achieve this is to ensure both yourself and any of your catering staff hold a Food Safety Practices and HACCP Principles certificate under your belt. Further to embedding an effective food safety system, it is also mandatory to hold a Certificate in Acceptability. This document will enable you to trade in food legally. You can obtain one by facilitating the visit of an Environmental Health Practitioner to your premises. Once the EHP is satisfied that your business meets the required standards of hygiene, they will furnish you with a Certificate in Acceptability.
Motivation
Caterers can face a range of challenges in their role, including motivation. Catering involves more than just preparing fantastic food, and requires the professional to don many hats including waiter, server, cleaner, maître d', marketeer, complaints handler and much more. The motivation to assume all of these roles can be tough primarily when your strengths may not lie in them all.
Operating a catering business, however, does necessitate resilience, lateral thinking and determination to navigate the diverse requirements of the role. Before you embark on establishing a catering business, assess your capabilities and limitations. Perhaps you might need some staff to support your endeavours? Consider the jobs that you may not want to do; will you have enough motivation to work long shifts serving up your culinary delights and then undertaking the cleanup? If not, you may need to rethink your business model.
USP
Unique selling point or USP as it is more commonly known, is an individuals or businesses point of difference. In an over saturated world of food businesses, you must understand what sets you apart from the competition. Once you have identified how you want to market your business, you can then strategise how best you can promote that.
Style
Knowing how to cook is one thing; knowing how to make any fiesta fashionable is another. Dressing a venue is a skill in itself and is sometimes a core role for event stylists. The ability to add styling to your repertoire of offerings as a caterer is a great value add so think about developing some expertise in this area.
Innovation
It is important to remain innovative to be a successful caterer. Triangle cut sandwiches might satisfy run-of-the-mill board meetings but if you want to penetrate the wedding market, you will need an impressive menu to attract your target audience. Be sure to continue developing your skills in cookery, diversifying your recipe collection and experimenting with new ingredients.
Business Plan
All of the above is fruitless without having a business plan in place. You will need a business plan if you wish to open a business in South Africa. Furthermore, you will require adequate insurance coverage and certificate of incorporation. While cooking may be your ticket to financial freedom, business planning in the first instance will be crucial. Adequate planning will ensure that your commercial catering endeavours are embedded in strong business practices and frameworks. For more information on starting your own business, we suggest you seek professional support.