If your bathroom is looking a little tired and you want to undertake some bathroom renovations, Uptasker has some tips on transforming the space on a budget.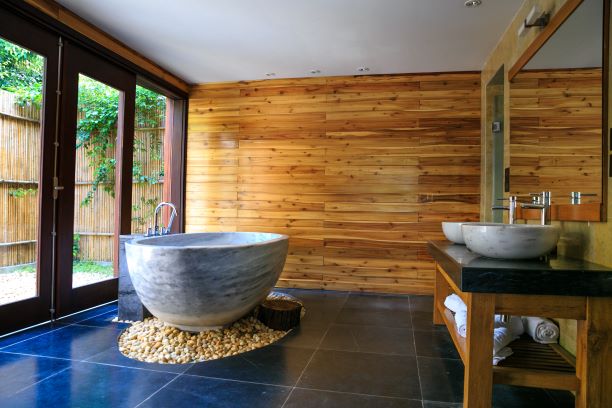 Consider refurbishment
Rather than scoot out and purchase brand new pieces for your bathroom, why not consider refurbishing what you currently have. For example, a plain white bathtub could become a tub fit for royalty with the edition of some gold or silver look taps.
A couple of jobs which you or an Uptasker handy-person can do to get the bath sparkling again is to:
Sand down the surface and fill any cracks or chipped areas with an acrylic filler
Prime the tub before finishing with a coat of epoxy paint; best type of paint for durability on most bathtub materials
Once the hard graft is done, you can transform your bath from old to new and improved with some stunning fixtures. For example, you could convert a white tub into something magical by using black epoxy paint and adding some gold style taps and plug. Voila, you have a completely new chic style going on. Apply these changes to the sink for a modern bathroom makeover!
We do advise that you get yourself a professional to undertake a restoration unless you are a confident handy-person!
On the topic of refurbishment, if you want a new bathroom without the price tag, you might consider restored fixtures. Instead of jazzing up what you already have, investigate refurbished options for sale.
Another tip is to visit your local bathroom dealer and negotiate on a display set of fittings. The displays set are generally brand new but might have slight wear and tear.  It is a merchandisers job to keep these displays fresh so you can likely wrangle yourself a good deal if you are there at the right time. Investigate when your bathroom dealer changes their window displays and plan a well-timed visit!
Scrimp on the tiles
Tiles; and tilers are not cheap. It's hard to imagine an untiled bathroom, but there are a couple of other options that you should consider to reduce your costs. Believe it or not, paint can serve as a super alternative to tiles. It pays to invest in high-quality, specialised bathroom paint and to avoid particularly splashy areas!
Why not combine paint and tiles if you are not sold on the former alone? Reducing the tiles required (if not eliminating them) will still reduce the costs of your refurbishments.
Wood panelling also looks beautiful in a crisp white bathroom; add some plants for an earthy feel. Again, it pays to avoid using wood in the wet areas and stick to applying statement pieces in different parts of the space.
Make changes – but not too many changes
You might get very excited about the endless possibilities of your bathroom renovation. Maybe you are thinking about the bath taking centre stage as a free stand feature. While possible, major bathroom overhauls can be very pricey. If you are considering moving fixtures, you will need a plumber. Changes in the location of the tub or toilet bring with them changes in plumbing, so pay heed to your budget before making big decisions.
Be environmentally friendly
Consider how you can be kinder to the environment when undertaking your renovation. Replace light bulbs with energy-efficient ones; these are better for the earth and your electricity bill. Another win-win for the planet and your pocket is water-saving taps and showerheads. Eco-friendly doesn't have to equal ugly, so don't be put off; there are very stylish water-saving fittings available to buy.
Go Granite
If you are thinking about installing new surfaces in your bathroom such as the counter-top surrounding the sink, why not consider granite? Usually associated with the kitchen, this durable material can be costly, but the beauty is that it is timeless. Almost impossible to chip or scratch, granite is one material not worth scrimping on in your brand-new bathroom.
If you have any other bathroom renovation tips to share, let us know!