A few years ago, friends of ours moved into an older house which could be described as a "fixer-upper", as the Americans call it. Whilst the foundations and structural elements of the house were sound, there was more than a little wear and surface damage to the wall and floor surfaces. This was expected, since the house had not been lived in for some years prior to our friends buying it. The house has good architectural design and only needed to have the cosmetic – or surface – problems sorted out to bring it back to its former glory. Fortunately, our friends saw beyond the initial lack of maintenance and did not let this put them off buying what has since become a beautiful and unique property.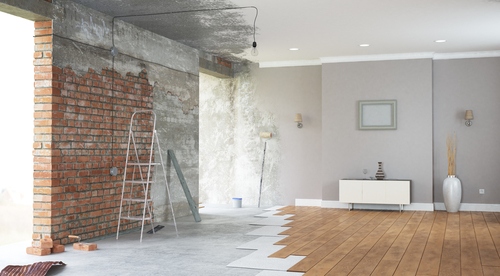 Don't confuse surface imperfections with construction failings
The important thing to note here is that the house was not falling down, nor was it structurally unstable. It was simply that time and lack of upkeep had taken their toll on the internal and external surfaces and damp, cracks and natural deterioration had begun to set in. Worse still, the mortar holding the bricks together had begun to crumble, allowing rainwater to penetrate certain areas. In addition, over the years, different owners had added extensions of one sort or another to the house. Every owner had built according to their own particular style and not really bothered about using bricks similar to those used in the original building, nor followed the original design style of the house. This inevitably led to parts of the house being serviceable and useful but looking unsightly and 'tacked on' rather than forming a cohesive and uniform external appearance. Definitely useful, but mismatched in the extreme.
Need to add kerb-appeal? Use render!
In cases such as this, one needs the expertise of rendering and resurfacing specialists. These are the people who repair and improve both the interior and exterior appeal of your home, giving it cohesion and more kerb appeal. They are also the experts who add architectural elements using polymer modified render, which has more flexibility and breathability, and also provides increased resistance to water and moisture. Render includes lime, allowing for added elasticity which assists in the prevention of cracks, splitting and shrinkage of the render itself. Whilst render, in its simplest form, can be a simple sand and cement mixture which is used to disguise poor-quality or mismatched brickwork on older properties, it is also extremely effective in creating smooth and sleek finishes on more contemporary homes. For instance, face-brick homes which have been constructed using inferior quality or mismatched bricks can easily be rendered to present a more modern and cleaner finish which will add instant kerb appeal. One has to bear in mind, though, that render will also need maintenance, but can be easily painted and patched. Render itself can be applied in a variety of pre-mixed colours, but can still be painted over at a later stage if needed.
Re-design and insulate without rebuilding
Our friends made the decision to have render applied to the exterior of the house in order to unify its appearance and combined this with a layer of external insulation to add natural warmth to the home. At the same time, they requested a textured or 'stucco-finish' to add an additional element of architectural interest to the house. Whilst they loved the original design, they wanted to add more of a Mediterranean feel to the house, and the addition of external curved Spanish-style burglar bars complemented the design perfectly. The house was then painted an off-white colour and, with the addition of bougainvillea climbers and brightly coloured tubs of hardy annuals, the house was complete. None of these decorative elements would have had the same impact had render not been used from the outset to brighten and unify the external walls. I loved the house when I first saw it, even in its initial dilapidated state, but it took the imagination of the buyers and the skills of the right specialists to turn imagination into reality.
Render is only as good as the wall or floor under it
It is wise to remember that, whilst render may disguise ugly or mismatched materials, it must only be applied to walls or floors which are otherwise sound and stable. If a wall is severely unstable, damaged or likely to be hazardous, it needs to be repaired before any render is applied. Because render provides the opportunity to create new textures on walls and floors, and thus gives you the chance to design something entirely unique and bespoke, it is a fantastic architectural element. However, any new surface render treatment is just a covering and does not add additional structural strength, so a damaged wall will still be unstable if not strengthened or repaired beforehand.
Render can provide a complete beauty 'make-over'
Restoring an old house to its former beauty or opting to restyle it completely has been made more affordable and possible due to the services of rendering and resurfacing specialists. Whilst render cannot contribute to the actual construction of walls or floors, it certainly can change their appearance. As long as your basic building skeleton is stable and sound, render can provide any number of different finishes, from textured to smooth and sleek. The decision rests with you. If you are looking online for rendering and resurfacing specialists, use Uptasker as your first port of call. This site provides the ever-important online ratings and customer reviews, which go a long way towards helping you to decide which supplier is the best choice for you. If you want more information on rendering and resurfacing, please see our articles on this subject.