In an age where the internet seems to be taking over most of the functions previously fulfilled through arduous searching in printed books, magazines and encyclopaedias, there is still a huge niche for printed goods. Whilst encyclopaedias may not be in fashion any longer, and the age of the iconic encyclopaedia salesman is long past, we still avidly read magazines and books, read the labels and directions for use on our consumable, pharmaceutical and cosmetic goods, and appreciate the beautifully designed and printed boxes in which so many of our purchases are packaged. Whilst many of us are now 'tech-savvy' and more at home with surfing the internet than actually using our brains to find information the old fashioned way, we still find comfort in printed goods.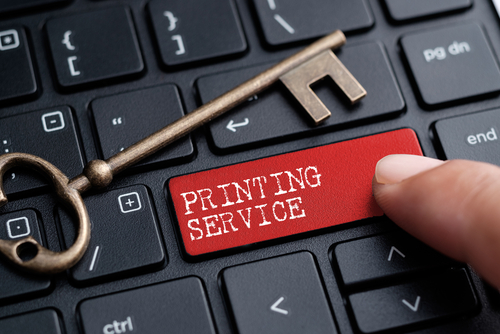 Printed goods are instantly visual
How many of us, when sitting in a doctor or dentist's waiting room, do not immediately reach for one of their selection of magazines to pass the time until our appointment? The pages of a garden, home or women's magazine often provide inspiration for our own homes, as well as new recipes, through photographs printed in glorious full colour. Words alone, though powerful, cannot convey the immediate impact of a photograph. Whilst we appreciate having these visual aids, we never really think about the processes which are involved in producing the printed goods we rely on every day. Without printing companies, our lives would be visually so much poorer. We buy goods based on the images printed on their packaging, which highlights the visual impact of advertising on our buying patterns. We are guided to our destinations via printed signage, we wear printed T-shirts which voicelessly but powerfully display our unique opinions and attitudes. We market our businesses and goods through printed business cards, flyers, brochures, catalogues, menus, labels, banners, posters and leaflets. In short, we communicate with one another through ever-present printed media.
How is full colour printing achieved?
Printed goods were, until a few years ago, mainly produced on lithographic process (offset) printing machines, which used to be large, noisy, rather messy and time-consuming to run. Modern technology has continued to improve these machines so that they are now quick to set up and quiet to run at speeds of up to 15 000 sheets per hour. Not many people are aware of the fact that full colour offset printing consists of only four basic ink colours – Cyan, Magenta, Yellow and Black (CMYK). It seems impossible that so many different colours and effects can be produced through the different combinations of four simple ink colours, but the facts speak for themselves.
In addition, it is sometimes difficult to exactly replicate unique logo colours using a four-colour combination and, in these cases, specific mixed ink colours are used, either alone or in addition to the CMYK colours. Such colours are called 'spot colours', and are printed separately. In the days when letterheads were pre-printed and the typed contents were over-printed through one colour office laser or inkjet printers, it was not possible to reproduce the exact logo colours of the company any other way. These days, of course, there are many full-colour home and office printers which digitally print colour direct from the internet, so printing companies are rarely asked to print letterheads now. Digital printing is becoming more and more popular, due to its efficiency, speed, quiet production methods and cost effectiveness on smaller quantities.
Different methods of printing
Printing is no longer dominated by mechanical litho printing presses, although they definitely have their place in the market. There is an ever-increasing need for quickly produced short-run print jobs, and many digital printing businesses are establishing themselves to fill this market niche. They can now be found in many shopping malls, making it extremely convenient for the customer to pop in whilst shopping generally. Business cards, flyers and simple brochures may be designed, printed and packaged within a few hours, which is a huge advantage when advertising special offers. Long-run or high volume jobs such as magazines, catalogues and magazines are produced on web printing offset printing presses, which feed and print on a continuous roll of paper, after which individual pages are then separated, collated, bound and cut to size.
Newspapers are also produced on these presses. A new and innovative form of printing is 3-D printing, which is capable of producing a solid article (for instance, a small model car) from a digital concept and design. This is achieved by producing and layering specific materials on top of one another to form the final three-dimensional object. This form of printing holds incredible promise in the field of engineering and medicine, in which conceptualisation can be tested in physical format almost immediately prior to expensive manufacturing processes being implemented. Yet another form of printing is wide-format printing, used for banners, wallpapers, signage, shop window lettering, vinyl vehicle signage and similar large print requirements, and uses a variety of materials such as plastic, vinyl, canvas, PVC, amongst others, making it extremely versatile and functional.
Print finishing
Printing does not end at the production of the printed page. Small-run magazines, brochures, diaries, booklets, etc. all need to be collated, bound together and trimmed down to their final size. There is sometimes a need for an additional coating such as a varnish, laminate (one-sided) or encapsulation (both sides) to be applied to the product after printing to preserve its appearance and functionality, often found on menus, folders, place-mats, coasters, table-talkers and items which are handled a lot, exposed to moisture or simply need to withstand daily use for a slightly longer period of time. Boxes, presentation folders, coasters, licence disk holders, printed items with unique shapes, labels, etc. have to be die-cut to their specific end shape, creased along fold lines and perforated where parts are to be torn off the item (think of the openings of cereal boxes, for instance), all of which are additional finishing services, either carried out by the printing company itself or outsourced to specific finishing companies which specialise in these areas.
Conclusion
The scope of printing is far more than simply transferring images onto paper. It is a vast industry with many different facets and specialities, many of which are not even touched on in this article. It is one of those industries where there is always something else to explain or to learn. I have not even mentioned the processes leading up to the start of the printing itself, such as the conceptualisation, design, copywriting, proof-reading and production of printing plates which takes place before the machines themselves begin to be prepared for printing. In order to get your specific branding or business message out to the buying public, you need to know what it is you want to convey and how you want to present yourself and your business. Printing is a huge part of this process, and presents the visual image of your brand in the form of both active and passive ongoing advertising. Because of this, the need for printing will never disappear and this industry will continue to develop in order to meet and satisfy the new technological age and its demands.