How many of us eagerly look forward to our annual vacations, a time when we are able to put our work life and – hopefully – worries behind us for a few weeks whilst we relax and recharge our depleted batteries? We may choose to head off for sunny beaches, elect to find mountains to conquer or plan whirlwind shopping and exploratory tours of Europe or the Far East. Whatever we do, it is only for a relatively brief period in our year, and many of us have properties and beloved pets which still demand attention whilst we are away. These days, despite modern alarm systems and smartphone apps, our homes are more at risk than ever before, with rising crime and unemployment forcing more South Africans into difficult and stressful situations when it comes to protecting themselves and their homes. Rather than leave your house observably unattended and therefore more susceptible to burglaries, consider calling in the services of a trustworthy and experienced house and pet sitter to reside in your house whilst you are away.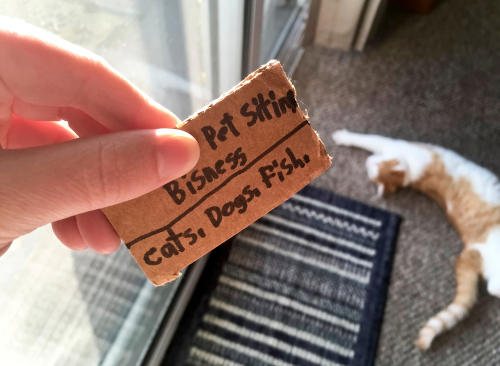 House sitters often double as pet sitters
House sitters are a valuable asset to a home-owner, for a number of reasons. They are present in the house for a large proportion of the day and all night, maintain and water your garden and precious houseplants, keep the house clean and tidy and will happily take on the responsibility for taking care of your beloved pets. As pet sitters, these persons take on the responsibility of feeding, grooming, walking and playing with dogs, will feed the ever-independent feline members of the household, ensure that pet birds are fed, their cages cleaned and social birds like parrots and parakeets have human interaction every day. This obviously means that pet sitters, whether they live in your house whilst you are away or visit to undertake tasks for your pets during the day, must be animal lovers with a good understanding of pet behaviour. If you have a house sitter applicant who is uncomfortable with, allergic to, or generally appears to have a neutral attitude towards your pets, your best bet would be not to employ them. Rather find someone who immediately reacts positively on meeting your pets, talks to them and shows enthusiasm and genuine affection towards them. I have a friend who does both house and pet sitting, and it is clear that the dogs for whom he cares on a regular basis are always thrilled to see him and enjoy the times he stays at the house. He plays with and talks to the dogs constantly, and their owners can go away in the sure knowledge that both their home and pets are in safe hands. This is the kind of house and pet sitter I would want for my own cats, someone who evidently cares for his charges and is conscientious and careful in his work.
House and pet sitters are flexible
Whether you are going away for a few days or a few weeks – or even longer – pet sitters will gladly fill in the gaps that your absence leaves. Many of them are retired professionals who have flexible schedules which allow them to fit in with your plans and who can spend more time each day at the house, whilst others may be full- or part-time workers who spend the nights and weekends at the house. I have done pet and house-sitting myself, albeit for one night only, during which I looked after three rabbits which needed to be rotated in and out of the house every four hours – including the night – in order to keep the male and two females apart. Not everyone would be willing to go to these lengths, but it is always worth asking!
A good house and pet-sitter is worth his or her weight in gold. A house sitter will easily take on many of your normal household responsibilities whilst you are not there to see to them yourself, including ensuring that the electricity meter is monitored and kept topped up, ensuring that there is always food available for your pets, seeing that your garden is watered and the grass is cut and trimmed, the swimming pool is kept clean and the appropriate chemicals are added, amongst other duties. They may be asked to collect your mail from a post box once or twice a week, or give access to a garden service or domestic worker.
You can be assured of their professionalism
Hiring an experienced and professional house and pet sitter could be one of the best investments you could ever make where your home and pets are concerned. Invest the fee for their services and reap the reward of knowing that, whilst your absence might be unavoidable, there is someone who will take care of your most precious assets, both material and living, whilst you cannot do it yourself.