If you are brand new to home renovations and are about to embark on your first project, you are unlikely to know what journey is ahead of you. There will be laughter and tears, missed deadlines, budget overspend and possibly some hair pulling. Uptasker has pulled together some top tips to help you on your virgin home renovations crusade; you will thank us one day. That is, of course, if you make it to the end of your reno.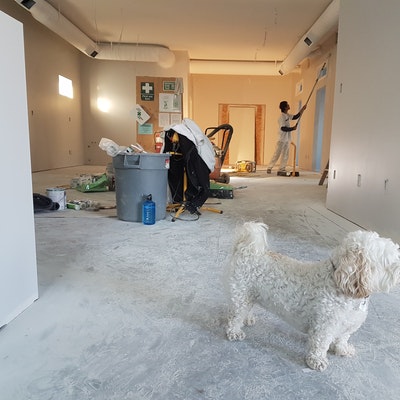 Budget
The thing about home renovations is that it can be done on a shoe-string or millionaires budget. What you want to update or add to your home may not align with what your budget allows you to afford comfortably. Before beginning any large home renovation project, map out your requirements against what you can afford. It is a good time before starting ANY updates to start getting home renovation quotes and shortlisting contractors. We are not keen on financing home renovations through loans, but understandably not everyone will have the cash flow available to front the costs for an extension for example.
Before visiting your financial provider for a loan, perhaps revisit your budget. Consider whether there might be opportunities to reduce spend. For instance, you could change up your dream of a brand new bathroom suite and instead opt for some reclaimed pieces to give an industrial feel. In today's world, where climate change is the topic on everyone's lips, reusing rather than buying new is always our advice.
Make Informed Decisions
Home interiors, much like clothing, transcends the seasons. While the neon yellow wallpaper might be a hit in 2019, it might not stand the test of time. Sure, it is important to put your stamp on your property but make sure that whatever style you decide on will not require updates in a year or two. Unless of course, you have a budget that allows for constant trend-setting. There are lots of useful apps that you can use to inspire and define your dream renovation project.
Pinterest is one of the wider known apps and enables you to build beautiful mood boards. If you are uncertain of what type of look you are going for, Pinterest will guide you. Once you start pinning, you will begin to see repetition in your style choices. The mood boards will, therefore, begin to give you a clear picture of the colour palette and materials you are demonstrating a preference.
Another great app is Magicplan which enables you to become the estimator of your very own home renovation! You can develop 3D models and virtual tours through this nifty tool and for those who plan to project manage their improvements, we highly recommend you download this bad boy!
Make every room work for you
Harnessing the true potential of each room's light and space will not only deliver for you aesthetically. You might also reduce your power bill. Energy efficiency is core to how any new build or renovation is undertaken these days, and so we suggest using each room to the best of its ability. The living space and kitchen where people tend to spend most of their time will ideally capture the most natural light.
Bedrooms tend to be the rooms that sit in the darker parts of the property. You might want to consider changing the set up of your home; a playroom might function better as a spare room, for example.
While you are planning a home renovation, consider whether your budget will extend to allow for solar panels. When you  you are undertaking significant changes to your property,  you might as well consider energy saving solutions for the future.
As always, lots of contractors on Uptasker are waiting to prepare a quote for you. Make sure to shop around and secure the best tradies to help you fulfil your home renovation dreams.