Maybe you are one of those people who have just always known what you wanted to do *when you grew up* – like a Dr a vet or a fireman, well, you are one of the very lucky few…. For most of us working out what it is we want to do with our lives can be quite confusing, with so many options and choices available – do you follow your head or your heart? Do you do something you love? Or something that pays the best? It can be a difficult choice.
Some people find they are quite happy to pursue their *passions* in their spare time while keeping a good *day job* to keep the money coming in. While others if they can afford to work part time – or not at all, while taking on their passion full time. Trouble is – basically if you pursue a career you don't like, just for the financial gains you will be setting yourself up for some future unhappiness.
Following your passion for something can lead to a lot of success – but it does involve taking time to sit back and re-evaluate everything, your skills, finances, overcoming your fears and making fall back – or contingency plans. Always have another career or skill to fall back on. So, if you are quitting your job, leave on good terms, there is no guarantee your new career, job or passion will turn out as you hoped, and you may have to go back to your old job.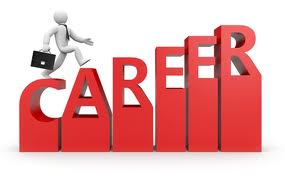 So, you're trying to figure out what career path or steps to take, there may be a few things you need to consider…
What are your interests? What are your strengths? What are you good at? Think about what it is in your new line of work that is the most important to you? The opportunity to travel? To be creative? To be your own boss?
Brainstorm. Take time out with friends and family, discuss your plans or thoughts and ask for advice, help or feedback – try and figure out what jobs or industries are related to your new goals.
Research – try and find out everything you can about jobs or industries that do interest you, look on line, in trade magazines, company websites. Talk to your family and friends, to any contacts you have, attend career or trade shows and keep your eye out on job boards for advertised positions. Consider working part time, or even doing volunteer work to get your foot on the first rung of the ladder.
Potential – you will need to consider other factors such as – what the job market is like, wages, the work hours, and the location – are you prepared to travel – or to move? And the chances of promotions? And what will your family and work-life balance be like?
Give it a go – sometimes the only way to find out if a new job is for you, is to give it a go, but, be prepared to move on if you find it's simply *not for you*.
Just remember what it is that you are looking for. Be clear on your vision; be brave when looking at alternatives and the most important thing is having the courage to change or to try something new.
What motivated you to change? How did the move work out? Did it make you happier? Perhaps you found the move wasn't what you hoped for – did that make you sorry you bothered? Or, glad you did??? Let us know!