There is a big difference, generally speaking, between a general florist and a wedding florist. Although, to some extent, the two can be regarded as interchangeable, I prefer to think of them as two different specialists. A wedding florist is extremely familiar with all the different aspects of creating a cohesive look at a wedding, and can give extremely pertinent advice regarding all aspects of the flowers needed, from the bouquet and corsages to the church and reception venue floral arrangements. If you are planning on a small, very informal and casual wedding, you might be able to use the services of a general florist as large, coordinated arrangements will probably not be needed. Florists are wonderful at making up specific small to medium floral arrangements for special occasions such as birthdays, anniversaries and general congratulatory (or bereavement) situations, but the sheer volume and different applications of the flowers required at a wedding calls for a dedicated florist who can give full attention to every aspect of the floral arrangements.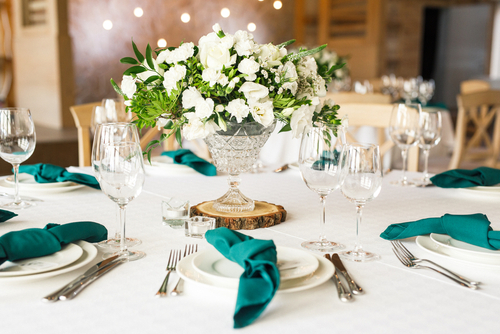 For the Wow! factor, don't skimp on the wedding florist
A friend of mine married a few years ago in a wedding ceremony which, although small and intimate, was rather formal, from the dress with a long train and veil to the matching white suit for the groom. I am not sure if this would be my own personal choice, but everyone has different tastes. The event, however, was rather spoiled because of the florist's lack of attention and – if I am being honest here – the relatively poor quality of the flowers used. Whilst the floral arrangements were attractive and did not overpower the small church, the bride's bouquet was little short of a disaster as it slowly disintegrated during the course of the ceremony, with the first petals dropping as the bouquet was handed to the bride. It was not properly bound and the flowers themselves were already a little past their best. I don't want to sound unneccesarily harsh, but at the end of the evening, there was very little of the arrangement left for the bride, according to traditional custom, to toss to the unmarried ladies. The bride herself was clearly distressed and this took that extra bit of sparkle off her once-in-a-lifetime day. Even if one marries more than once in a formal church setting, the first wedding is always the most special for many reasons. In my friend's case, the finances had simply not stretched to the costs of a specialised wedding florist, so an acquaintance who claimed to be a florist was called in to fill the gap. I cannot speak for this person's credentials but I do know that she couldn't have done a better job at putting a huge blot on an otherwise wonderful day.
Flowers are meaningful, so choose your floral arrangements carefully
Even if the ceremony is small or informal, a bride will usually carry flowers of some sort, and there is a good reason for this. Apart from the fact that flowers are romantic in nature, the tradition of carrying flowers goes back a long way. According to the ancient Romans, flowers were believed to signify fidelity, new beginnings and hopes of fertility. The choice of flowers in a bridal bouquet are entirely a personal choice, although some flowers, such as roses, are known to hold certain meanings : red roses for love, white for marriage and spirituality, yellow for friendship, pink for grace and elegance, peach for modesty, sincerity and gratitude, etc. A lovely way, then, to send a silent but heartfelt message to your guests and family at a wedding would be to use peach roses in the arrangements and bouquet. Another choice for bouquets could be irises but they, too, have different meanings according to their colour, for instance : blue for faith and hope, yellow for passion and white for purity. White lilies symbolise modesty and virginity, yellow represent gaiety and orange symbolise passion. Beautiful, fragrant Lily of the Valley sends out a message of sweetness and purity of heart. Most florists will doubtless have some knowledge of each flower and its meanings, and it is probably fair to say that wedding florists will have a more in-depth knowledge in this regard. A wedding florist can offer advice in all respects, particularly when it comes to choosing complementary colours in your floral arrangements. Even if your overall colour-scheme is blue, red, turquoise, green or any other strong colour, your wedding florist will be able to advise you on colours which will blend well with such a vibrant palette.
Share – and save!
If your budget is tight and the floral arrangements are in neutral colours, see if there is another wedding being held in the same church on the same day where you can perhaps use the same arrangements for both ceremonies and share the cost. You will be able to get twice the value for your money this way, as you will be paying only half for the major floral arrangements, although there will still be individual needs such as corsages for the ladies, buttonholes for the menfolk, the bouquet itself and bridesmaids' posies. Because flowers are expensive, there is absolutely no shame in sharing …
Involve your wedding florist in your decisions
Take your wedding florist with you to the church and reception venue so that she can see the space which has to be decorated, and allow her to guide you on placement of any floral arrangements so that they will not get in anyone's way or hide the faces of those sitting at the bridal table. It may well be possible to use the same floral arrangements in the church and the reception venue, but your florist needs to know your intentions in this respect so that she can ensure that the arrangements will fit in both areas, and will also undertake to move these arrangements behind the scenes whilst the wedding photographs are being taken. Even the pew-end floral decorations can be re-used at the guest tables if carefully crafted.
Let the beauty of your flowers be enjoyed after the wedding
Flowers, whilst beautiful, are expensive and, sadly, have an all-too-short lifespan. Make the most of their beauty whilst you can and bring some joy to others once the reception is over by donating them to places such as retirement villages or other public areas where they can still be enjoyed. It will cost you nothing and bring pleasure to so many others, which is what flowers do best.