In spite of the importance of the work that they undertake, it seems that plumbers still have a hard rap these days. Not only is the work they do necessarily sometimes rather less than appealing, but they are mostly unappreciated for their skills – until their services are needed, and then usually in an emergency. When the geyser bursts, a pipe overflows or a toilet blocks, the first person we call is the plumber. Friends of ours were babysitting their young grandson for the day, and were amused at his fascination with the action of the washing machine. They didn't find it so funny a little later when they discovered that he had stuffed three of his plastic toy cars down the toilet bowl – and flushed it – because he decided that they were dirty and needed to be "washed"! Because these events happen at any time of day or night and regardless of the day of the week, many plumbers offer emergency services to resolve our problems as quickly as possible. For this, I think they deserve applause which is too rarely given for their efforts.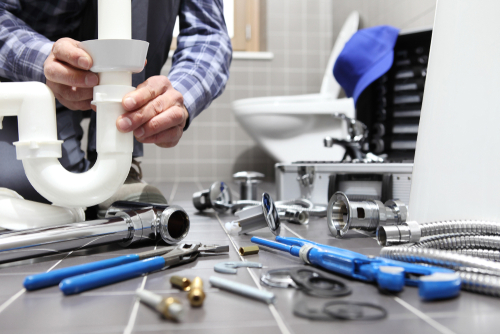 Speed up that slow-moving drain
Having said this, it immediately makes me think that this sort of service tends, in many people's minds, to compartmentalise plumbers into the category of general workmen who do the unpleasant jobs that others are not overly willing to tackle. Nobody wants to deal with the embarrassing matter of a clogged toilet, or basin, sink and shower drains which are not doing their job quickly and efficiently because of the build-up somewhere in their depths of waste materials which have been washed down on a daily basis. Whilst certain home remedies and plungers may sometimes do the trick, it is not always a successful operation. And, let's face it, the average homeowner has absolutely no idea how to go about removing and replacing a faulty geyser. Instead, there is the general cry of "Call the plumber!" They will sort the problem out, but people tend to forget who was actually responsible for installing those services when the house was first built. Yes, it's all thanks to the plumber!
Plumbers are essential to building projects
Building and construction teams always include the services of qualified plumbers at a particular point in the build. It is the plumbers who are responsible for the laying of pipes for the supply and drainage of water, air, gas, steam or other liquids and installing fixtures such as sinks, baths, basins, showers and toilets. All of these installations have to be carried out according to strict specifications and municipal by-laws.
Need a gas line installed? Who do you call?
Our neighbours recently decided on a complete kitchen renovation, including the purchase of a brand new gas hob to replace their somewhat tired electric hob which had definitely seen better days. Now facing the inevitable 'empty-nest' syndrome, they planned to expand their kitchen facilities and entertain more frequently. When it came to the installation, they were surprised to learn that the gas line between the outside gas supply and the hob had to be professionally installed by a plumber, something that had never crossed their minds. Whilst they knew that the installation had to be safely and securely carried out, the idea of a plumber being the responsible professional simply did not occur to them. I suppose, in this respect, they are not alone! Seeing that a plumber would be in the house, they decided to invest in a dishwasher and fancy new ice- and water-dispensing refrigerator, and have these professionally installed and plumbed in at the same time. Because of his absolute professionalism, they are now looking at turning their second bathroom into a sauna/shower home retreat room with the advice and input of this same plumber.
Don't wait until a small irritation becomes a major problem
Hands up anyone who has never been bothered and driven to distraction by a dripping tap. I'll bet that there are very few people who have not had to endure this torment at some time in their lives. It is one of the most annoying irritants and, no matter how loud the surrounding noise is, this is one sound which seems to over-ride everything. Dripping taps are wasteful, extremely irritating and, over time, cause water stains which somehow never seem to be properly removable. Better to bite the bullet early in the process and get your local plumbing company to sort the matter out before you do something rash like attempting an amateur fix which – quite simply – won't work in the long term. And if you are planning on selling your property, do you really want to show a bathroom which has unsightly green water stains in the bath or basin caused by a ceaselessly dripping tap? It won't help you to sell your house, and could knock off a fair percentage of your profit by showing your potential buyers that you simply did not care enough to repair a relatively minor problem. The stain is usually caused by copper deposited as a result of corrosion in the water pipes and fixtures, which could eventually cause tiny leaks in the water pipes. Sometimes small things can lead to much bigger issues!
Without a doubt, plumbers are here to stay …
Whilst we all enjoy the convenience and ease brought to our lives by the incoming and outgoing of water in our homes, businesses, factories and commercial premises, we tend not to think of the people who are responsible for making it all happen. That is human nature, and we are all guilty of the act of simply assuming that these things are simply 'there' when we want them. It's only when things go wrong that we fully appreciate their presence in our lives. Unless we all become professional, skilled and experienced in all matters related to plumbing, there will ALWAYS be a need for plumbers. If you have a niggly problem and need the services of a good plumber, have a look through Uptasker's listings, where you can check online ratings and customer reviews and request quotes from a number of these experts from one site. If you want more information on the work that plumbers carry out, please see Uptasker's articles in this regard.