Whether you are starting a new business venture from scratch, or simply want to update your old logo and stationery, much of your marketing will be done through passive advertising. This is advertising which is simply "there" in the background and is noticed either consciously or subconsciously by the general population. It is not a "push marketing" methodology, but a quiet presence which reminds people of your existence, whether they are looking for your services at the time or not. As such, your logo will do much of your selling for you if it is well designed and impactful to those who see it.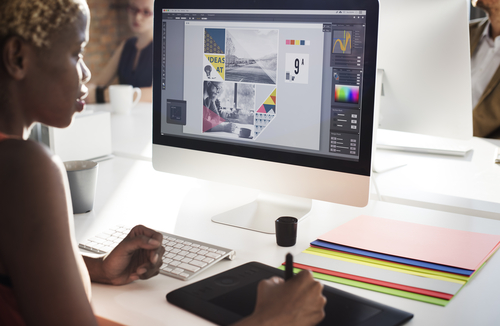 Want to place yourself above your competition? Use a clever logo!
While you may have an idea of what sort of logo you want, you are most probably unable to create it yourself unless you are a talented artist. You have to remember that your logo and the slogan that may go with it will be the marketing hallmark of your brand or business, and has to say a lot with very few – or even no – words. You need to be able to convey the very essence of your business or brand with a pictorial symbol that people will remember. For instance, butchers used to show a blue-striped aproned man holding a large knife or a string of sausages or other meaty offering which clearly indicated his profession. Plumbers could identify themselves with a logo incorporating a dripping tap, or even a smiling tap, so the buying public could see that this was a business that dealt with plumbing.
Skilled graphic designers know their business tactics
But why am I saying all this? Quite simply, because graphic designers are often the starting point in getting your business identity off the ground in a meaningful way. Graphic designers have imagination and artistry and an experienced designer will have the knowledge of how any design will translate into a printed format. As a layman, you might think that your idea of fluorescent green writing on a bright yellow background will certainly attract any potential customer's interest and attention, but be unaware that this simply does not work well in a printed format, where it would be difficult to read the writing clearly. And if, in a rushed world where a marketing message has to be short and impactful, your viewing public cannot read what service you are selling or even read your contact information, you have lost your sale before it has even got off the ground. This is where the experience and skill of a top-notch graphic designer will place you heads above your competition. Whilst larger franchise businesses have the resources to employ advertising agencies to devise their logos and marketing campaigns, smaller businesses have to rely on much tighter budgets for their advertising. Think about it – when you want a quick and easy chicken take-away for dinner, which brand springs immediately to your mind? Which brand is ever-present in your thoughts as you go through your day because of their logo? If you want your business to become familiar and the first place your customers will turn to rather than your competition, it is through a clever and strategically-aimed logo. A skilled graphic designer will – with or without your input – design a logo which is unique to you and your brand, giving you a marketing edge through humour, out-of-the-box thinking and imagery or sheer inspiration.
You don't have to be an artist to be a graphic designer (although it helps!)
A graphic designer can be a combination of computer-created imagery and creative artistry. Whilst graphic designers do not necessarily have to be skilled artists or even able to draw anything better than a stick-man, they have a tremendous amount of creative thought and insight into what will attract attention for your business. They are the consummate computer-jockeys when it comes to manipulating words, fonts, images and graphics to create the final result. They are adept at using various computer programs to bring ideas to life. And because most of them work closely with commercial printing companies, they know that what you see on your computer screen may not always produce good results in printed copy. Very fine type in full-colour printing may look great on-screen, but be unreadable when actually printed. At some time or other, we have all read a newspaper or magazine where the register (or correct placement of the four CMYK colours on top of one another) is poor, resulting in copy which is unattractive, unreadable and sloppy. A skilled and experienced graphic designer will be able to advise you of these potential hazards and find an alternative solution which will produce equally great results.
Push your brand's image to its fullest potential
By all means update your brand logo to something more modern, fresh and eye-catching or create a unique identity for your business which will promote your brand on a daily basis, but listen to the advice of your graphic designer, because this is the specialist who really understands artwork and the power of words and how to make them work for you. Don't let your creative ideas remain in thought only – convert them to physical form with the help of a graphic designer and market yourself and your brand to the fullest potential. Your increasing customer numbers will pay for the upfront costs in no time at all. For more information and tips about graphic design, see Uptasker's blogs and articles.