Whether it is a small and compact townhouse garden, a large, sprawling meadow-type garden or a highly functional and productive area such as a vegetable garden, all types of outdoor spaces benefit from a central feature which attracts the eye as well as serving a specific purpose. For many gardens, this comes in the form of a unique structure known as a pergola, which is designed to serve various functions within its garden setting.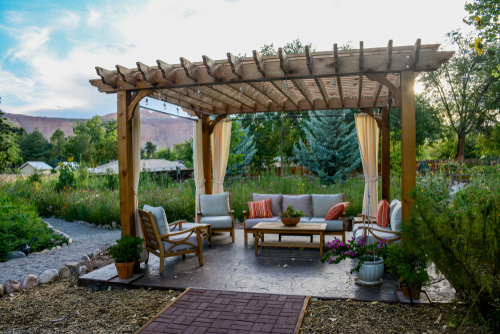 What is a pergola?
In its simplest form, a pergola is an openwork structure built from posts and beams which creates and serves a particular purpose such as forming a sheltered area, usually over a patio or deck, or a shaded walkway. Shade may be provided by a permanent roof structure, or may depend upon or be enhanced by the leafy covering of climbers and vines which are trained to grow up and over the pergola itself. This latter type of covering is exceptionally attractive during the summer months when growth is abundant, and allows for sun infiltration during the winter months when many climbers and vines are in hibernation and therefore leafless. Generally, a pergola's main function is to create an attractive centrepiece in a garden or other outdoor setting. Pergolas are not a new innovation by any means; they have existed in garden and outdoor designs for over 3000 years, although the styles, materials and names have naturally changed over the years.The earliest known surviving garden plan, dating back to about 1400 BC, belonged to an Egyptian high court official of Thebes and provides details of a pergola-like structure over the entry way into the garden.
Need an extension to your dining area for the summer months?
South Africans generally love little more than enjoying our glorious summer weather and taking advantage of it as often as possible. Relaxing and eating outdoors is a traditional past-time in this country. There are times, thugh, when the summer heat is simply too much for some, and this is where a pergola really comes into its own. Offering a shady place to sit whilst enjoying the more gentle breezes of the summer, these structures cannot be beaten for their convenience. Rather than worry about oversized and bulky garden umbrellas, simply create a stable shaded area close to the house or the swimming pool (if you are lucky enough to have one) by erecting a pergola. Whilst there are many different types of covering available, both permanent and retractable, for these structures, my own personal favourite is a cover of natural plant growth. Some people choose to grow grape vines up these structures, or the ever-popular passion-fruit vines with their exotic flowers, but planting is not limited to edible fruit vines. Climbing roses, wisteria and jasmine will happily use the support of a pergola, whilst allowing those sitting in their shade to enjoy their beautiful fragrance. If the only downside is the occasional leaf which lands in your drink, you are definitely in the winning seats here!
What materials can I use for my pergola?
The majority of pergolas are constructed from strong hardwoods which will last for many years, particularly if they are treated with a good coat of UV-resistant varnish every couple of years. These pergolas are extremely versatile and fit in well with almost any garden style. Traditionalists may opt instead for metal structures with plenty of dainty features and lattice work (remember the once-popular 'broekie-lace' edgings and features on older houses?). Modern pergolas are also made from vinyl and fiberglass, and are extremely low maintenance as they do not require repainting or re-staining and still continue to look great for many years, as well as being highly resistant to mould. Since they don't require regular maintenance, there is no chance of damaging your plants by moving or cutting them back during regular varnishing or painting of the structure.
What roofing can I put on a pergola?
There are a number of different roofing options which work equally well on a pergola that is used as an extension of your outdoor seating area, including retractable fabric canopies and sails (which are great for year-round entertaining), fixed canopies, fixed wooden droppers (which allow for dappled sun), decorative and adjustable metal shade plates, adjustable louvers or corrugated plastic and metal panels. Your roofing options are really only limited by the pergola's intended use and your own imagination.
I had two pergolas in my previous garden. One was attached to the upper wooden deck and was partially covered by wooden droppers, which gave much-needed and welcome shade during the hot summer months, and the other was a far more simple home-made wooden structure in a corner of the garden which supported my climbing plants and provided shelter to ground planting whilst adding an element of height and eye-appeal to an otherwise unremarkable portion of the garden. Both pergolas served their individual purposes perfectly and added value and street-appeal to the property as a whole.
A USA-based pergola-manufacturer has stated : "Pergolas … found their home and origins in Greece, Egypt, France, Asia, and have since spread to all corners of the world. The timeless simplicity and functionality of pergolas will ensure their rightful place in history for years to come". If you think of the many architectural elements which will pass down through the decades, there is no doubt that the pergola will always stand out as a much-loved garden feature, and for very good reason. Check through Uptasker's Pergola Specialist listings to find the best supplier in your area.