One of the most common fears both in educational and professional environments is that of public speaking. There is just something frightening about standing in front of a group of people and trying to communicate something that you believe will be of value to them. This group of people could be a group of total strangers, an audience made by people you have never seen or will ever see again; or it could very well be a group of people with important roles you are expected to impress with your speech, or why not, it could simply be an audience of friends with whom you would like to share something and make sure it comes across as clearly as possible.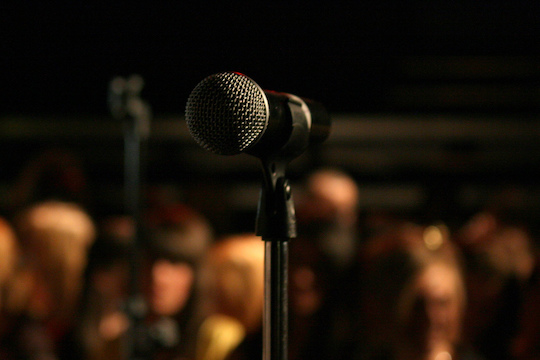 There is a certain degree of vulnerability that comes together with the art of public speaking, which usually consists of communicating an idea or a concept that was formed through a period of hard work. So the fear of public speaking is not simply the fear of speaking in front of a group of people, but it is loaded with the emotional aspect of fear of rejection, mockery, or causing the wrong impression in people. Hopefully the next tips will help you overcome this fear that honestly, appears way bigger than it actually is.
Structure allows freedom
The first tip for overcoming the fear of public speaking is to be as prepared as you can be. The more prepared you are, the less nervous you will feel. People usually make the mistake of thinking that having a structure or a basic memorised speech will not allow them to "be themselves" when communicating, but this idea is not really accurate. The reality is that the more prepared you are, the more comfortable you feel with where you want to take the audience. Once you know by second nature what your speech is about and the main points that you want to communicate, you will feel confident in adding or omitting  stuff as you go and the situation requires it.
The more you practice, the more the ideas you are trying to communicate will make sense to you and only then, you will be able to reason and bring more of yourself into the picture, not focusing anymore on not forgetting what you need to say.
Focus on clear communication 
One of the TED talks experts defines public speaking as an act in which you are trying to transfer an idea that already exists in your brain, and make sure people replicate and understand that idea in theirs. Instead of focusing on impressing the audience, focus in communicating effectively whatever it is you are trying to communicate. People will remember clear ideas way better than impressive phrases nobody can understand. Also, when people can understand what you are saying it helps them connect with you and remain engaged throughout the whole speech.
Assuming and building rapport 
Rapport can be defined as the bond between the speaker and the audience. It is when the audience relates to the speaker and somehow trusts that whatever he is communicating is worth listening to. When it comes to public speaking, connecting with the audience is the starting point and common thread throughout the speech, so it is very important the such connection is built either at the beginning of the speech or throughout the process of communication.
The best way of speaking confidently in an event is to assume rapport, it is to address the audience as if they already like you and as if they were already interested in what you have to say. This shouldn't turn into arrogance though, because people recognise arrogance very easily and automatically shut down to whatever you are trying to say. Instead, approach the audience confidently (with assumed rapport) but still put effort into making the real connection happen (built rapport).
An ever-changing "Best"
One of the things that makes us all feel incompetent when it comes to public speaking is the belief that the speech we are about to deliver will be (or should be) our best speech. Most public speakers look at their previous speeches and laugh at themselves, mainly because there has been a clear improvement in their way of communicating. Embrace the reality of an ever-changing best and realise that your best speeches are still to be written as you continue to develop as a public speaker.
Public speaking is not easy, but it shouldn't be a cause of stress either, it is simply a challenge that if we work on it, we will eventually be able to overcome and do it successfully. What other tips do you think will be helpful for overcoming the fear of public speaking?  Have you encountered this struggle as well? Let us know!