It would be fair to say that being a make-up artist is a far more complex vocation than simply being skilled in the art of applying facial cosmetics for special events. Even now, there is still a general belief that a make-up artist does little more than skilfully apply cosmetics for a bride and her retinue on the day of the wedding. This is rather like describing a gardener as 'someone who cuts the grass'! A make-up artist is the specialist who visually transforms a person's appearance through the use of make-up, paint, wigs and other accessories. This is what makes them so valuable in the entertainment sphere.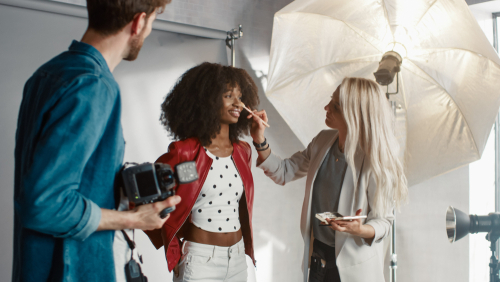 Where do make-up artists work?
A make-up artist has many talents in a variety of areas where cosmetics are concerned, but a lot depends on the specific area in which they specialise. A make-up artist may work with a photographer on modelling shoots, be involved in the creation of specific 'looks' and even a whole new alien species for film-makers, including the design and application of prosthetics for actors – very often seen in science fiction and horror movies – or work within beauty houses and spas which offer luxury pampering.
Photography and films are the make-up artist's bread-and-butter
Photography, film and make-up always seem to be linked to a larger or lesser degree, as both photographers and film-makers use the artistry of make-up to turn their models and actors into the characters around which the filming revolves. A modelling shoot will always have a team consisting of the photographer and the make-up artist who uses cosmetics to create the mood or the specific look that the photographer is aiming for. If, for instance, a photographer was shooting clothing reminiscent of the 1960's, he would probably want the make-up artist to re-create the look which was popular in that era. We have only to think of the iconic Twiggy or 'The Shrimp' to know exactly what that means! They are two different disciplines, yet collaborate together perfectly when needed. Make-up artists work closely with costume designers, set designers and stylists to ensure that all facets of the assignment are consistent and harmonise together. Period dramas, such as "Price and Prejudice", "Oliver Twist", "Mary, Queen of Scots", "Braveheart", "Dracula" and so many more all depend on the work of make-up artists to transform the actors into people who are as close to the original or written characters as possible.
Enter into the world of the imagination …
Make-up artistry may well include full body painting in instances where the photographer wants something extraordinary or ethereal in their photographs. If the desired result is a model who looks like a wood sprite or fairy, or even has to blend in perfectly with the surroundings, like a chameleon, a make-up artist with the right experience will be called for. This is more than simply using the right facial cosmetics. It is a very definite and specialised form of art. I know a photographer whose focus is on presenting her models as very dream-like and nature-inspired, all achieved through very skilled use of cosmetics, with flowers and natural elements as part of the final photograph. Personally, although beautiful, I do not really see any commercial point in such pictures, but it is a perfect example of make-up artist and photographer working together in complete understanding to achieve the final result.
What other qualities and attributes are required?
A make-up artist must have certain additional qualities to become successful, such as :
Clear communication and ability to put themselves in the client's position to understand what exactly is required;
Tact. When speaking to clients, sometimes the truth will only cause distress, so problems need to be tackled with care and consideration;
Patience. If the client changes their mind mid-way, it is best to go with the flow and follow the lead. If time is not a problem on the shoot, start again and allow the design to flow in the new direction. Remember, it is NOT your call, but that of the client, that matters.
Be able to work calmly under pressure and in a chaotic environment, such as a modelling show;
Be able to manage the resources which are available to you;
Ensure that all the necessary cosmetics or paints and accessories for the shoot are readily available;
Ensure that the make-up is in keeping with the costumes being worn;
Ability to work well with other members of the team;
Ability to budget for required make-up supplies and materials;
Being able to keep up to date with fashion styles, tools and technology related to make-up;
Being able to interpret design ideas and concepts or sketch these for the client's prior approval to avoid misunderstandings;
Ability to take into account different lighting, backdrops and colours when deciding which cosmetics to use in any situation;
Being able to produce the correct end result within the time allowed;
Being able to put personal opinions aside when asked to carry out jobs where they feel that they have better ideas. Whilst it is worthwhile presenting these ideas, if they are not what the client wants, then they must be set aside in favour of what has been requested.
And, in conclusion …
Make-up, in some form, has been around for well over 7 000 years. Cosmetic body art is believed to have been a large part of the earliest form of ritual in human evolution. It is a certainty that this form of decoration is not going to disappear in the foreseeable future, and will only improve in quality and innovation. It seems that exciting times are ahead, where the imagination will have no boundaries. Becoming a make-up artist will ensure a good future for those who are talented, creative and skilled in their art. For those of us who do not possess these skills, we have the experts to call on! All of us can express our individuality and imagination, or simply enhance the best of our features, through the use of make-up. And how nice it is that it can simply be cleaned off at the end of the day, so a bad make-up day won't last forever. To find out more about this fascinating subject, check out Uptasker's articles and listings.