It has been said that doing something you love is not work, but a hobby. Put another way – do what you love and you will never work another day in your life … Being able to put your heart into a project and seeing the direct results of your efforts adding value to other people's lives, can be one of the most satisfying achievements you can experience. So it is with me. Working as a trainer has been tremendously rewarding, here's why …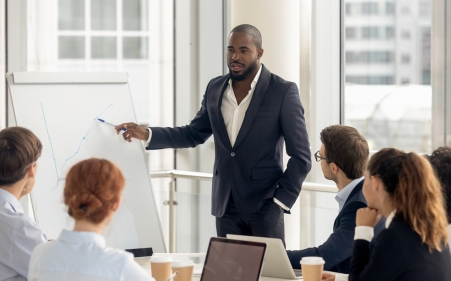 Working As A Trainer
I am a trainer. Someone who, through experience, knowledge and competence in my field, is in a position to pass this information on to others. It does not matter to me about the background of my trainees. All I ask for is interest in the subject, the ability to listen to what is being said, and the aptitude to follow instructions from the start of the process. As the subject matter becomes more familiar – and thus more understandable – to the trainees, their absorption and competence increase at a steady rate. Nothing thrills me more than a question from a trainee which forces me to stop and think carefully before answering. As a trainer, my skills are always being exposed to new challenges, questions and methodologies. A good trainer never rests on his – or her – past skill-set and laurels. There is always a different way of getting an idea or concept across to the trainee, for each one is an individual who learns in a different manner and at a different speed.
Learning Is An Addictive Process
When personal computers first started making their appearance back in the mid 1980s, I was appointed as a Word Processor trainer for a large corporation on the gold mines in what was then the Free State and Johannesburg areas. My job initially involved training secretaries, but evolved into thirteen allied but different modules which incorporated all levels of staff, right up to mine management. Every one of these modules required me to learn the subject matter from scratch, using only the available technical and complex user manuals, and re-write them into individual modules which presented the material in a far more understandable, easy to follow and thus user-friendly manner. This material had to be researched and written whilst continuing to run ongoing training courses. As each technical manual was converted into usable training modules, training courses on the subject began to run. As a young female trainer, it sometimes proved more than a little difficult to earn the rather grudging respect of older male managers who were uncomfortable with learning new skills, and therefore openly challenged both my knowledge and abilities. Even so, at the conclusion of the training period, with certificates of competence in their possession, these same managers were asking for the dates of other modules so they could book themselves in. Why? Simply put, because learning is an addictive process which encourages personal and professional growth, makes you feel good, satisfies the sense of achievement in your own abilities and encourages confidence.
Teaching But As A Trainer
Being a trainer is different to being a teacher. A teacher has more of a dictatorial role, sticking strictly to a set syllabus, whereas a trainer has more latitude to explore the subject matter and challenge the mindset of the trainees, as well as his/her own approach. A trainer focuses more on adults who already have life experience and bring this with them to the training courses. Many training courses have group exercises where the attendees draw on past experiences, share these, and use their combined knowledge to solve problems. These are my favourite parts of any training course, both from a trainer and trainee point of view. Being challenged to re-think my point of view or entrenched beliefs when facing a new situation or problem is, for me, an amazing experience. You become very "elastic" in your approach, examining other scenarios, considering other possible outcomes to those you would expect, learning to debate your point of view with others in your group and either convince them – or be convinced – of different ways of solving the same problem.
Training is not static. It does not stand still with unchanging subject matter and methodologies. It is a constantly evolving world filled with endless possibilities, new ideas, different attitudes and experiences which force all participants – including the trainer – to re-think old beliefs and standpoints. Above all, for me, it is a process of constantly asking "Why?" and "What if …?" finding new methods to reach an acceptable solution, and, most of all, opening myself and others up to new possibilities and growth.
Work? Training others to embrace and expand their knowledge, approach, skills, thinking and experience is not work.
It is a privilege.