For those of us who were teenagers in the 1970's, the disco was a staple of the social circuit. At that age, we didn't really care if the music was fast and upbeat or slow and seductive. We were there to be seen, and to have the chance of meeting a potential new partner, hanging out with friends or simply spending time with a steady boy- or girl-friend. At the heart of the disco itself was, of course, the DJ (disc jockey), whose responsibility it was to play host for the evening by providing the musical entertainment and keeping the party on its feet, so to speak.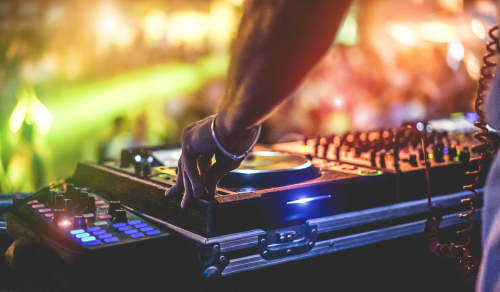 Are DJs still popular in this era?
DJs are still a popular choice for many functions, including engagement and wedding celebrations, birthday parties, business functions and wedding anniversaries. There are a number of reasons why DJ-led entertainment works so well, so let's look at just a few of these.
Their music is portable and highly varied. They can play songs going back to the days of vinyl records or give you the latest hits which are presently trending.
Their music repertoire is almost limitless. Their music selection is stored in digital format which allows for planned playlists or spontaneous output according to the needs and moods of the function. As such, they can tailor the music to meet the specific needs of the client to ensure that the party retains its planned theme. Just as younger people do not want music from the days of Bing Crosby, Ella Fitzgerald or Frank Sinatra, for instance, older folk prefer more sedate music which means something to them. And why not? Music is a reflection of the times, and we all know that time is in constant motion, so why should music not change with it?
The DJ has a large input into the success of the occasion. Some DJs seem to become so much a part of the evening that it is difficult to separate them from their playlists. For the more talkative DJs, their general conversational patter between numbers can certainly add additional entertainment to the evening. The DJ who likes to fade into the background whilst letting the music speak for him is also a valuable asset as he allows his personality to take a backseat while the music becomes the major attraction.
Unlike bands, DJs do not need to take regular breaks which can tend to put a temporary stop on the entertainment. Because they can cue their playlists to continue in their absence, they can be away from the 'hotseat' without halting the flow of the evening's entertainment.
DJ's are not limited in their range. Many live performers, whether they are individual entertainers or bands, have a particular 'sound' which identifies them and becomes their selling point. Singers who either play an instrument such as a guitar or a piano or are accompanied by background music have a style which is unique to them as well as having a set routine. In some respects, once you have heard a few of their songs, you have basically heard them all as they all follow the same pattern. It's the same with bands, although to a lesser degree. A DJ, on the other hand, can swing from rock 'n roll to soul to heavy metal to ballads and folk music in one easy step and without missing a beat. It's all the same to them since they are not personally producing the music but simply putting it out there.
DJs bring their own lighting. Many DJs have an array of light features which they use to add atmosphere to the evening. This could range from the old "glitter balls" of the 60's and 70's to strobe and coloured lighting which adds that extra touch of glamour to an evening event.
DJs are able to read the mood of their audience. A skilled DJ can instinctively gauge when to change the tempo of the music, for instance from active dance to slow romantic, giving people a chance to catch their breath on the dance floor or to slowly wind down the evening's entertainment.
DJs have a wide knowledge of music, to the point where they are able to exactly time the end of one song and the start of another, so that they blend into each other. This merging or 'fading' out and in ensures that there is a continuous and uninterrupted stream of music with no harsh stops and starts which can be disruptive. Momentum can be lost in a matter of seconds, so make them count.
There is simply no choice – choose a DJ for your next event
There are so many advantages of hiring a DJ for your special event. If you manage to find one who fully understands your needs and the atmosphere you are aiming for, then you cannot go wrong. Uptasker is the perfect online site for finding a DJ in your area, especially since it gives you the chance to see previous clients' online reviews and ratings.