There have been a few occasions in my own life when the services of a concreter – or concreting specialist – have provided invaluable assistance during renovations and additions to the homes I have lived in with my family, and there is no doubt that we could not have achieved the results we did without them. Besides my personal experience with these specialists, I have seen evidence of their work in both the private and public sectors. To be honest, it is difficult to know how we would manage without them, bearing in mind their essential input into the construction of structures such as bridges, tunnels, under- and over-passes, parking garages, culverts, pipes, poles, silos and the low safety walls which run parallel to many of our major highways. Those who either live in or have visited the Western Cape may well have seen the concrete wall which was built a few years ago right along the Strand beach-front to provide a barrier against the increasingly high tides during winter storms which were adversely affecting road traffic in the area. This wall has been created from large concrete blocks which have been tactically designed to provide the most effective barrier whilst still being aesthetically acceptable. This wall is functional and useful in everyday life as well, as it provides a perfect place to sit and enjoy an ice-cream or just watch the sea and beach-goers. Without the input and skill of concreters, this wall would not exist in its present form. There is no doubt that concreters serve many purposes, and yet none of us really consider the specialists behind so many of the structures which form part of our everyday lives.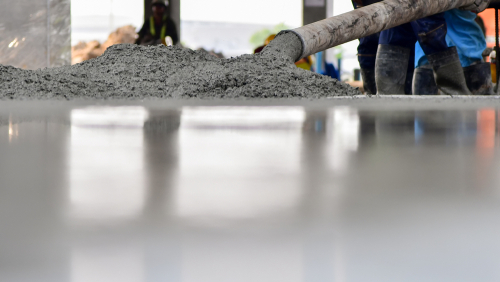 What sort of work does a concreter do?
On a basic level, concreters tackle routine work such as :
Cutting or breaking up and removing existing concrete;
Cleaning existing concrete, which is particularly useful in garage forecourts and parking garages which become stained by oil, grease and petrol over time;
Polishing newly cleaned concrete to make it more visually appealing and to provide a protective surface layer;
Laying concrete driveways and paths;
Designing and building decorative concrete borders;
Tackling repairs such as cracks and degradation of existing concrete;
Reinforcing existing concrete structures;
Digging the holes for and pouring concrete for post holes and walls;
Digging foundation trenches.
I should stress that the above are only some of a concreter's routine work tasks. However, this article is not meant as a lecture on concreting, but rather a personal, rather broad overview of their specialist field.
Concreters and design
Concreters are also employed to create unique or bespoke concrete designs and effects in keeping with the immediate environs as well as various architectural styles through the use of specially crafted stamps, stencils and hand tools. For instance, Spanish or Tuscan style homes often feature highly decorative designs and curves which are typical of this style. Many Mediterranean style homes have sheltered courtyards with raised fountains and ponds, together with curved archways and alcoves. To complete the look, the flooring may be concrete which has been tinted and stamped into patterns which resemble various sizes and types of tile, or painted with patterns which enhance the architectural style, which are then sealed to protect the artwork. The beauty of a stretch of plain concrete is that it can be made to imitate a much more expensive material such as stone, cobbles, slasto or tiles, and at a fraction of the price of the real thing. South African homes, often feature specifically designed braai areas or raised fire-pits made from concrete, which are steadily growing in popularity for a number of reasons. Americans have incorporated fire-pits into their outdoor entertainment areas for many years, using these mainly during the cooler autumn and spring months as a central point of heat whilst entertaining outdoors. Often these fire-pits are surrounded by specifically designed built-in seating which often incorporate smaller garden bed areas to add an additional design element. A practical aspect of concrete is that it can be formed into many different shapes according to the space available and the function required by the design. For instance, built-in concrete seating provides a permanent entertainment area which can be washed down easily and covered with rugs or cushions to add a touch of glamour and colour. And, of course, concrete can be tinted or painted any colour to fit in with the surroundings – or even to form a focal contrast. I once saw a small town-house garden which featured a tall free-standing free-form curved concrete wall which was painted a bright red. Rather than being off-putting, it actually complemented the garden design and introduced a valuable pop of colour which seemed to heighten the greenery around it and drew the eye away from the boundary walls. A focal point such as this can add impact and drama even to a small garden. I can still remember it now, which definitely proves that thinking out of the box in garden design and using concrete as a feature really works!
Concrete is versatile
Personally, I love the versatility of concrete in that it provides the opportunity to experiment and offers almost limitless design options for permanent or semi-permanent structures. It gives you the freedom to truly personalise your space and ensure that the result is absolutely unique to you. Concrete can be stained, painted, polished, presented as a plain surface or made to resemble a number of different natural materials. It can be pre-cast into various shapes which can then be loaded and positioned on-site or poured or sprayed in-situ as needed.
Convinced to give concrete a chance? You won't be sorry!
If you have decided to use concrete in your private or commercial premises, use the services of a skilled and experienced concreter who will do the job to your specifications and guarantee his workmanship. Concreters know how to build for the elements, allowing for factors such as expansion and shrinkage in their construction methods, which is something we might never think of when tackling a job on our own. If you are looking for a concreter, do yourself a favour and check out Uptasker's online listings. You'll get the benefit of reading customer reviews and see any supplier's online ratings, which provides peace of mind when selecting your supplier. Above all, don't confine your thinking to 'the box', but give your imagination and design prowess free-rein, then call in the concreting specialist to turn it into reality. If it's a feasible and achievable project, just think of the bragging rights you can claim in the years to come!