Cleaners can get a hard rap. Not only do they have an incredibly difficult job to do at the best of times, but they also face below average pay rates and little opportunity for progression. Some people even look down their nose at cleaners, but little do they know just how lucrative cleaning as a career can be. Furthermore, it takes strength and stamina to work as a cleaner, so here at Uptasker, we think more power to you if this is your job!
Working as a cleaner can be a great way to have flexibility (think college students and mums) and can give a chance to those with minimal qualifications to secure employment.
In this blog, we want to show you how to make good coin from cleaning. All you need is a can-do attitude, entrepreneurial spirit and of course an impressive stockpile of scrubbers!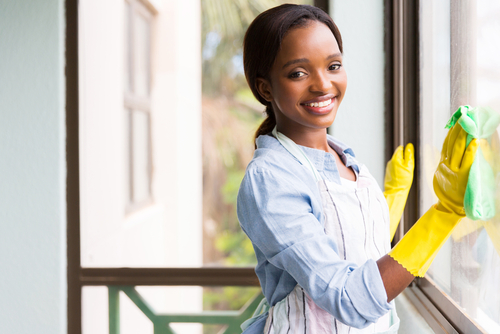 Start your own business!
Working for a cleaning business is one thing but owning the business is another! Next up on your agenda is a name for your cleaning company. Think something catchy that conveys your business offering instantly! You will need a comprehensive kit of cleaning tools to do the basics, but it is also worth investing in some additional pieces to make your business offering unique and in demand. An example of a good investment for your empire is a carpet and upholstery cleaner.
You will need to invest in some insurance to operate as a sole trader in the cleaning industry. Public liability insurance is an absolute must as it covers any accidents that can occur on the job. With heavy machinery and chemicals at play make sure that you protect yourself, your staff and members of the public. Accidents can happen! And they can be very costly if you are not covered!
Market yourself! There are so many ways to engage in marketing and advertising today, with more affordable options available. It doesn't have to cost an arm and a leg to get the word out about your cleaning company!
Make cleaning your side chick
Maybe working as a cleaner doesn't have your whole heart and you are only willing to commit to it part-time. Cleaning is a great job to weave around your full-time number and gives great flexibility. Lots of corporate organisations hire cleaners to get their offices in order after a busy day jam-packed with filing, typing and printing.
Get in touch with a cleaning company in your area and ask if they can take you on part-time. The great thing about this type of work is that you don't need to have a qualification or even necessarily experience. Most companies will seek workers that are physically fit and not afraid of manual labour. Another indirect side effect of working as a cleaner in addition to your full-time role is that you have less spare time to spend your money!
Clean and Go
If you are hoping to travel but need to make cash, cleaning is a great portable career to have up your sleeve. Building your experience as a cleaner is handy as caravan parks, and hostels around South Africa will welcome your talents! Having the ability to travel the country and make cash without the commitment is an excellent way to live on your terms. Cleaning is a great crutch to lean on when funds are low due too many nights drinking goon around bonfires!
At Uptasker our message is simple. No job is below anyone, and you and YOU alone can use your smarts and willpower to maximise and monetise even the lowest paying roles. It just takes a touch of entrepreneurialism!