No matter how much you love your home, sometimes it simply does not fulfil the needs of everyone living in it. As families evolve, through either growth or reduction in size, a house may not necessarily meet the "one-size-fits-all" definition. There are two choices in such a case : renovate to fit your needs, or move. Renovating the interior of your home need not be the major expense and disruption you might expect, if you make use of the advice and services of an experienced and knowledgeable ceiling and drywall specialist. This is not such an odd statement, and I will explain why.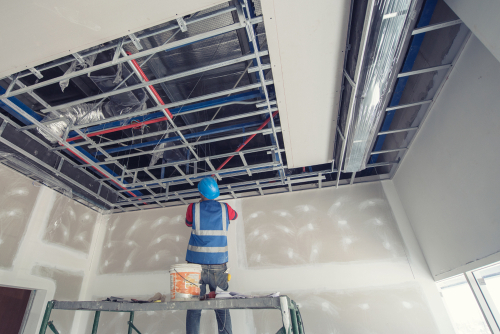 Is your home evolving with you?
Many people move houses upwards of three or four times once they reach adulthood and have finally left their parents' 'nest'. This is not unusual. A home which is perfectly suitable for a single person is not always ideal for two, and once children enter the family unit, more space is required to house a growing family. Keeping a semblance of peace in the home may be accomplished simply by ensuring that every member of the family has his or her own space. Sometimes, especially when children are still very young, this can be done quite easily by dividing a shared bedroom into two smaller units where each child has privacy and a place to call their own. Whilst this may work when children are small and do not need much individual space, it will probably not be an option when it comes to older children and teenagers who need more space and produce a lot more noise. At that stage, moving to a larger house might be the only option, but at least a breathing space of a few years would have been possible in the meantime. At the far end of the scale, once the children have gone from the house and into homes of their own, parents might find themselves in a house with far too much room for two, resulting in downsizing to a smaller and more manageable home. In the years which pass between its purchase by a young couple, through the arrival and departure of children into their own homes, a house may undergo many transitions to suit the needs of its occupants, Renovations, major alterations and simple cosmetic changes are all par for the course in the lifetime of any house.
Renting rather than buying? You can still adapt to suit your needs
House moves are often due to geographical relocation due to work opportunities or promotions. It might easily be the case that the house you move into in a new city is not ideal for your needs – or those of your family – and so has to be adapted to accommodate those needs. If the relocation is short-term, it may be wiser to rent a house for a few years rather than buy in the new area, a convenience which comes with the caveat of being restricted in the type of structural changes that can be made to suit your family's needs.
Drywall is perfect as it is not necessarily a permanent fixture
Short-term structural needs are easily resolved with the use of drywalling partitions to create additional rooms within the interior house space itself, and these can easily be removed and the house restored to its original inner proportions when the house is vacated. Because drywall partitions are non-permanent and relatively light-weight whilst still maintaining a reasonable level of structural strength and integrity, they are an ideal solution to a tricky problem. With the advent of the global Covid-19 pandemic, more businesses are opting to have their employees work from a home-based office rather than commute into normal office premises. If a study or small office is required for someone working temporarily from a home without a spare bedroom, drywalling can be used to create one in a section of a larger room such as a TV lounge or sitting room. Drywalling can easily be painted the same colour and finished to match the existing walls, which means that it can be seamlessly incorporated into the overall space without appearing obtrusive and 'tacked-on'. In addition, in order to make the smaller room seem more spacious than it is and to prevent a feeling of being boxed-in or claustrophobic, a 'tray ceiling' can be incorporated into the design to give the impression of height without actually altering the original room height. This is done through a design which rather resembles an inverted tray, with uniform stepped levels all around the ceiling leading up to the centre, highest point. This may be considered a form of 'trompe-l'oeil' or so-called 'deception of the eye' which creates a forced perspective which is not actually real, but works remarkably well.
Need architectural or focal interest in a bland space?
Drywalling is also an extremely useful décor choice when it comes to creating architectural interest in large – or small – rooms. False walls encompassing alcoves, niches and shelving which provide a useful storage or display area whilst adding a designer touch to the décor can easily and quickly be erected. Archways, decorative architraves around windows or doors, bulkheads and false ceilings with concealed or spot lighting or in-built sound systems are just some of the options available to you.
Not using your attic because it's unfinished?
If you are lucky enough to have an older house with usable attic space, or have an upstairs room under a steeply sloping roofline where the wall height varies within the space, a good option would be to have a drywall shed roof built which accommodates the slope and creates a feature around which the room is designed to maximise functionality. If your attic room has only roof struts, it is relatively simple to have a ceiling specialist install a false ceiling which will immediately give a sense of lightness and space whilst concealing necessary waterproofing and piping running across the interior roof space.
Home is where the heart is – so let it evolve with you …
Whether you move house often or rarely, there is no reason why you should not be able to customise your home to suit you and your family's needs on an ongoing basis, and without necessarily changing the interior space permanently. Families and their requirements are always growing and evolving, and there is little reason why, with careful thought and know-how, your home should not change with you. Drywall and ceiling specialists are experts at not only creating new features, but also disguising uneven or less-than-perfect wall surfaces in older homes or where large cracks keep appearing because of subsidence due to severe weather patterns over time.
Go on – be creative, it doesn't have to be a permanent fix!
Whatever your needs are, keep in mind that nothing has to be permanent nor set in stone, but you can still express your unique creativity in a way which will not impact forever on those who take on the house after you have left. Just be sure that you choose your contractor wisely and you can never go wrong!