In the 1960's to early 1980's my father was the Chief Building Inspector for a medium-sized university town in the Western Cape. He worked for the local municipality, and was one of those professionals who took his job extremely seriously, and for good reason. It was his responsibility to ensure that all new buildings and structures conformed to building codes and regulations, thereby ensuring the safety of the building for human use and occupation. His high standard of professional ethics ensured that he reported for work every day with the same commitment to serving his chosen profession and the general public to the best of his ability.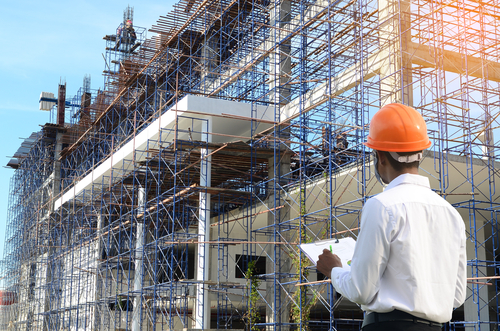 Don't mess with a building inspector – seriously!
His job was not always easy. There were times when his professional dictates were ignored by builders who carried on with their building work despite his warnings that the construction was against code or had breached some aspect of the municipal by-laws. He was a fair man – he gave warnings and advice at all stages of the build, and if the end result was in direct contravention of any laid-down building regulations – he would quietly, and without fuss, authorise and oversee the demolition of those sections of the construction which had failed to adhere to the laid-down codes. He was the kind of man who used his knowledge, experience and authority with care and consideration. But there was no messing with him. His job was to ensure the safety of all construction projects, to prevent potential future structural failures and problems and, in so doing, to protect lives. There is no margin for error in this aspect of building and construction, and that is why building inspectors exist.
The Building Inspector calls …
Building inspections typically take place at the beginning of a project, during construction and upon completion. The starting point may begin with an examination of the plans of the proposed structure, during which potential areas of risk may be identified and the plans amended. The inspector is not there to find fault as such, but rather to identify any potential areas which could lead to problems further down the line. Before any building work begins, a permit must be issued by the appropriate authority or municipality.
Reasons for inspection
During an inspection, building inspectors assess the structural quality, general safety and any potential risks related to the building or project in question. These professionals then determine if the structure passes inspection or requires further review. They may require that the services of other professionals, such as Soil Erosion and Sedimentation Control Inspectors, be called in to conduct periodic inspections where there may be potential problems, such as when building on steep cliff sides or in areas where the building may be subject to subsidence or flooding under prolonged adverse weather conditions. In such areas, strict measures must be put in place to help provide effective control and protection of the building. Soil tests or a soil analysis may be required in order to obtain a building permit, to be sure that the subsoil surface conditions are able to support the structure to be built, or if additional support elements are required.
The general inspection process
There is a general schedule within which building inspectors work. When plans are first submitted and approved, the building inspector will do a site inspection to see if the planned building will fit on the site and if the building will be situated within the allowed building lines. Foundation trenches have to be inspected and approved before the concrete is poured. The next planned inspection will take place once the walls have been built up to roof height and are ready for the roof trusses to be installed. The building inspector will want to inspect these trusses once they are in place, so it may be possible to combine these two stages to save time. He will also inspect, check, test and approve all plumbing fixtures and fittings and sewerage connections before the trenches are backfilled. Once he has completed the final inspection and signed the building off, an occupation certificate will be issued.
Who controls building regulations?
All building and other construction projects are governed by legislation published originally in 1977 and called The National Building Regulations and Building Standards Act (No. 103 of 1977), which became enforceable as law in September 1985. Two years later this legislation was published by the South African Bureau of Standards as part of the original Code of Practice for the application of the National Building Regulations, SABS 0400-1987, which later became known as SANS 10400-1990. South Africa's National Building Regulations (NBR) were originally designed as a set of guidelines governing any building or structure which, whilst not being prescriptive as such, provided certain mandatory requirements which had to be met and forms the basis of how buildings in South Africa should be constructed and developed to suit human habitation.
The NBR covers the following facets of the building process, broken down into 21 (previously 23) different chapters :
Part A: General Principles and Requirements
Part B: Structural Design
Part C: Dimensions
Part D: Public Safety
Part E: Demolition Work (no longer has a "deemed-to-satisfy" code of practice)
Part F: Site Operations
Part G: Excavations
Part G: Foundations
Part J: Floors
Part K: Walls
Part L: Roofs
Part M: Stairways
Part N: Glazing
Part O: Lighting and Ventilation
Part P: Drainage
Part Q: Non-water-borne Sanitary Disposal
Part R: Stormwater Disposal
Part S: Facilities for Disabled Persons
Part T: Fire Protection
Part U: Refuse Disposal (no longer has a "deemed-to-satisfy" code of practice)
Part V: Space Heating
Part W: Fire Installation
Parts X & XA: Energy Usage
Never disregard the input and value of building inspectors
Building inspectors are there to protect the rights of the builders and owners as well as the people who will be affected by the construction, both directly and indirectly. Whether you are going to be living in the house yourself, for instance, or are the neighbour whose life might be negatively affected through the thoughtless impact of the new build next door cutting out all your sunlight or views, you may well find that the building inspector can smooth the waters by advising on the legality of the proposed construction, or suggesting possible solutions which suit all parties. At the very least, a building inspector will make sure that any building conforms to legal regulations and provides a safe and fully functional place in which to work or live. For more details, please see our articles on Building Inspectors.