There are self-help books, mantras, chants, and charms that different people utilize when they are making an effort to improve an aspect of themselves, their situation, or their career. Often times, people become disinterested in their job, because they have found an excess of downtime that once was filled with phone calls and projects, reports, and meetings, performance standards and your own personal pride in your work, you have slipped… BIG TIME!
There are ways to get your MoJo back in the workplace though, some of the simplest, most obvious things, are hidden behind a foggy mist of haze. (If the haze is due to some illicit behaviors, you can correct your situation easily, by leaving the wacky-tobacky alone and by DOING YOUR WORK!)
On the other hand, for those of you not partaking in the festivities, the methods are easy, the results are proven, the reward is a boost in your self-confidence, and perhaps a raise instead of a pink slip.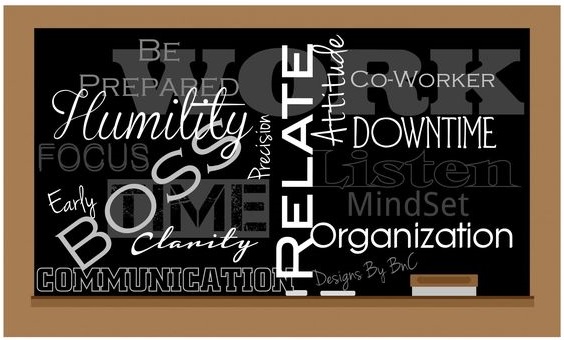 10 Easy Steps For Workplace Success:
10. Be Humble.
Looking down your nose upon other people in your office will undoubtedly get you noticed!
However, this is not the time to be self-promoting. If you're being inefficient, ineffective, and holier-than-thou, expect to be canned at the first opportunity! By being humble, you show that you haven't completely checked out. This is the time to always appear in the shadows, after owning up to your faults and committing to improve, that is.
9. Be Prepared.
Whether this is your first job, or your 50th, you know that when you're scheduled to work, your employer expects you to arrive in uniform, prepared to begin work. For the most part you're asked to be there 10-15 minutes early as a means of allowing you to transition into the workplace mentality.
.
8. Aim For Clarity & Precision In All Your Communication.
Ah the "Age of Technology", hard to believe that just 20 years ago if you wanted to deliver a
letter or memo, it means walking across the office to deliver the memo or letter yourself! OMG the HORROR!
Ok, settle down, we're nowhere near returning to those days, but what it means is that we've lost the face-to-face aspect of personal and professional interactivity to some degree. It also means that E-Mails, Memos, Texts, and other correspondence can be easily misconstrued, and you're rarely there in the moment for them to have been able to read your facial or bodily expressions.
7. Give Yourself Genuine Downtime.
(Hey Smokie, that does NOT mean run to the Parking Lot, sit back down!)
But it does mean that in order to be most productive, you need to exercise regular brief breaks, this is good for circulating your blood, stretching your muscles, grabbing a light snack, a walk to the bathroom or water cooler, or even outside for a breath of fresh air. All of these things bring your state of mental alertness to its peak, and they assist with that lower back ache you feel at night, from sitting in your cubicle all day.
6. Arrive Early.
We've pretty much come full circle here, and I won't talk long about this, because there's no
point in beating a dead horse. Just go get a new one that you can lead to water and hope it drinks…. Just remember this is what your boss could be thinking right now too!
However, even just 10-15 minutes can give you a jump start on your day!
5. Focus on Listening.
Pay close attention when your boss speaks to you, or in your hearing vicinity. You're expected to know what your boss needs, and expects of you each day. If you don't know this, see #5!
It's not only important to listen to what your boss is requesting, but also to your colleague's thoughts and ideas. Brainstorming sessions are often what results in great innovation or at least solves the problem at hand. You also will learn what your boss finds interesting opposed to the type of things that bore him, this is a sure fire way to get on his good side.
But, don't focus so hard on listening, that you don't appear to be participating, this is your double-edged sword!
4. Create Good Working Relationships with Co-Workers.
Have you ever missed a day of school and had to buddy up with your bestie to get the notes from the day before? We're still doing that! There are groups of people responsible for individual aspects of a much larger project, and we're all comparing notes.
3. Put Yourself In The Mindset Of Your Boss.
Not in the "who would I fire first" sense, but more like what would you be expecting of your
employees? You can generally pick up cues by watching and listening to your boss, not in a stalker, eves-dropping way, just for educational purposes.
Showing empathy, an interest in her style, or even offering a sincere gesture, or a "Way To Go!" after a huge deal closes. She has a boss too, and they're not always pleasant or acknowledging either, so your way to go, might just make her day!
2. Stop Trying To Multitask!
You're not an octopus, and you can't do it all at once, just give up! Pick your battles wisely, the ones you're sure to win!
If you're not clearing out your inbox daily, don't sweat it. If you're staying on top of the most
important tasks and getting them completed on time and accurately, your boss will be happier with you, than if you had rushed through it, hoping it was right.
1. Get Organized!
This is the easiest said, and usually the hardest to accomplish. Does one of your friends have OCD, or a phobia of unorganized chaos? Can I borrow her?
First, go through your E-Mail:
• Create a Folder System
• Prioritize your messages by Urgency, then by messages you can either
Delete, or Reply to them, and get them out of the way.
• Any less pressing things can be added to your To-Do List.
(TIP: Select ONE of these to accomplish daily, and DO IT!)
Then, write due dates on your calendar, enter them on your smartphone, or create some other form of notification that will alert you when the assignment has a specified number of days left, but still allows ample time for completion.
I'm not saying you'll be the CEO in a week, or even a year, but if you want it and work for it, you'll achieve it, just believe and achieve!
What aspects of the working life do you think contribute to better office happiness and getting better at your job?