Best patio specialists in Umlazi, KwaZulu-Natal
---
Top patio specialists near you
Browse the best patio experts and compare ratings and reviews.
---
Hire the best patio specialist
Search Uptasker for the best patio specialists - compare ratings and read reviews
I need to increase my outside entertainment area as my house is quite small. What would be the best way to do this?
The modern housing trend is to build smaller, far more compact homes. Land, building costs and services are expensive and there is a definite need to downsize living spaces to accommodate the constant demand for housing. This often results in there being a much smaller area within the home for entertaining friends and family, or even just for normal everyday relaxation. Even those homeowners with larger properties often prefer to host informal meals or braais where there is a more relaxed atmosphere and, if one is lucky, a garden or swimming pool in which to entertain. But regardless of the garden space available, a well-designed, functional and attractive patio area will definitely add value to any home.
Patios extend entertainment periods throughout the year
We are extremely fortunate in that our South African climate allows for up to seven months of pleasantly warm to very hot weather, which is ideal for outside entertaining and relaxing. In the more temperate areas of the country, simple appliances such as outdoor patio heaters can extend this period even further. South Africans love the outdoor life and many really chafe at being stuck indoors for any length of time. So the obvious answer is to extend the living and entertaining area into the garden by means of an attractive and well-planned patio.
Want to entertain outside in areas with strong summer winds?
Even if the area you are living in is particularly affected by strong summer winds, such as the Western Cape and its notorious south-easters, you can still entertain on your patio without having everything blown away. There are a number of options available which will definitely assist in this respect. Patio specialists are knowledgeable in planning outside seating areas which suit all your needs. Patios do not have to be open to the weather all year round. Whilst a permanent wall can be built which cuts out excessive wind or sun, or simply acts as a privacy screen, there are various measures which can be installed which will cater for any weather conditions, such as :
Awnings, which can be either retractable or fixed. Retractable awnings are designed to provide shade as and when needed, whilst fixed awnings with tilting slats allow for both shade in summer and access to sunlight during the winter months;
Fixed shade sails. These are a fairly new innovation, with smaller sails often triangular in shape and held tautly in place through attachments to the upper walls of the building adjacent to the patio, or attached to poles, trees or pillars which are able to withstand the tension required. Sails are made of materials which vary from a fairly open-weave shade cloth to PVC materials which are up to 90% water-resistant, allowing you to sit outside even during wet weather. Many modern shades are also UV and wind-resistant and will last for a number of years without noticeable deterioration.
Outdoor retractable patio blinds, which can be either clear plastic or opaque. These blinds serve a dual purpose in that they are able to cut out wind and dust as well as provide protection and shelter from the sun and rain.
There are many options available to extend the usefulness of your patio, and those mentioned above are simple solutions to common problems of too much sun, rain or wind. A knowledgeable and experienced patio specialist will be able to advise on all possibilities available to you.
How do I find the right patio specialist?
Check their online ratings and customer reviews
Patio specialists have been in business for a long time, and are generally not difficult to find through traditional methods such as advertisements in House and Home magazines and architectural publications, Home Expos, flyers (when special offers may be available for a set period), newspapers and the Yellow Pages. If you prefer to use the internet, search engines such as Uptasker are your best bet. Uptasker does have the advantage over other search engines in that this site lists in geographical locations, which makes it easier to find the right specialist closest to you, as well as providing online ratings and customer reviews, where available. Through this site, you can also obtain online quotes from various suppliers, but an on-site inspection is always preferable before deciding on any specialist or patio design. The more input you have, the more possibilities will become apparent!
---
Top patio specialist tips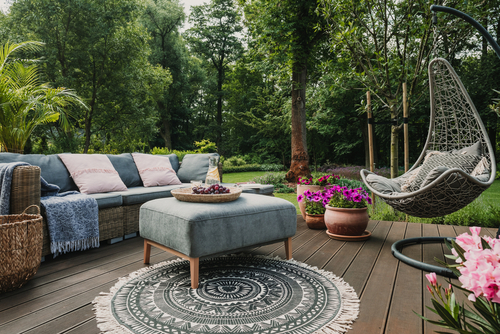 When planning your new patio, listen to the advice of the patio specialist you are employing. He is the best person to advise on what materials to use in the flooring – whether brick, stone, tiles, concrete, etc. He will assist in the design of a patio which can be used year-round and provide an attractive addition to your home. After all, a patio is not just for show, but is intended to be an extension of your living space, both for relaxing or entertaining, and therefore needs to be as weatherproof as possible to get the most use out of it. For more tips, see Uptasker's patio specialist articles.
Read Patio articles
---