The gig economy is nothing new with a broader acceptance among people to access services from freelancers, online marketplaces and content mills as opposed to the traditional bricks and mortar businesses. A double-edged sword, the gig economy has revolutionised the world of flexible working but has also driven competition up to dizzying heights.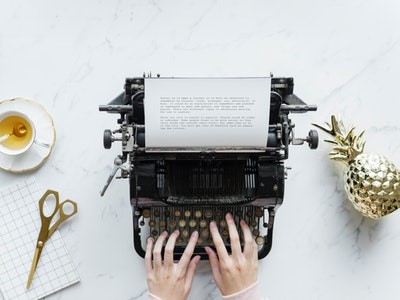 Take the freelance writer for example. The explosion of websites in the last twenty years has, in turn, brought an insatiable appetite for quality content writers. Capitalising on these opportunities, savvy entrepreneur types with a talent for writing have begun to offer their services online. Blog writing and web content creation have provided a steady stream of additional income for people looking for more than their nine-to-fives. So what's the problem? Well, supply is starting to win over demand, and with businesses crunching the numbers and looking for ways to reduce spending, the availability of cheap content mills are winning over the independent quality writer.
In this article, we examine the ways that content writers can continue to grow and maintain their online customer base by diversifying their offering and demonstrating that quality always wins over cost. If you are a keen writer and want to learn how to stay ahead of the game, you need to read this article.
Qualification
Exceptional writers are born with their gift, and the art of writing itself is not necessarily one that can be taught. Indeed, would be writers can work on the structural and grammatical aspects of producing content but the creative flair that separates the best from the rest is something that courses through one's veins. It can't be learned. Having said all that, if you are a talented writer but lack any formal qualification in this area, it is worth looking into the options for study. Sure, further education costs money, but in the long term, it will put more cash in your hands. With an abundance of writers offering their services online, customers are choosing who they deem to be the best. One way that your potential clients will do this is by reviewing your formal qualifications in writing.
Service Offering
Another area that you can improve when promoting your services online is the actual scope of content creation that you offer. There is no shortage of writers that advertise their blog and web content services, but the demographics of their customer is changing. The online content shopper is no longer just the small one-person business seeking help with maximising their web presence. More prominent corporations are turning to the world wide web to find the services of:
Technical writers
Bid/Tender writers
Policy writers
Lead generation writer
Certainly, not a limited list by any means, the examples above give you a small snapshot of what type of writing your potential customer is seeking. Have you pigeon-holed yourself as a blog writer and may be missing a large slice of the market? Diversifying your service offering dovetails nicely with the first point about gaining a qualification. While you might be an excellent writer, perhaps you lack the technical skill to transition into the prosperous business writing market. If this is the case, maybe you could take a technical writing course?
What makes you unique?
A writer with the fluidity to transition between tone and topic with ease is likely to make more money. Digital marketing companies, as one example, often hire writers on a freelance basis to create copy for their suite of clients which probably operate in a range of industries. If you can demonstrate an ability to write about a diverse range of topics, be it tyres or building your triceps, you have a great chance of securing this type of freelance work.
Remaining mindful of what makes you different is essential. Indeed, clients want an adaptable writer, but it is your unique flair that will keep them coming back to you.
Perhaps you are an expert in a particular subject field or write particularly good humourous pieces. Make sure that you highlight this in your portfolio or writers profile. Websites like Uptasker, Freelancer and Constant Content are good starting points for you to develop your online presence and with the help of a well-written profile, showcasing your copywriting expertise, it won't be long until the customers start rolling in.