What does catering involve?
Let's start by trying to accurately define what catering actually is. Catering is the business of preparing, cooking and delivering food to differing locations which are often not under the caterer's direct control. In these circumstances, once the food has been delivered, the caterer often has no further input concerning the control and serving of the food at the location. In this type of off-site catering, caterers may be asked simply to prepare and deliver the food, or they may be asked to provide basic additional equipment and implements such as plastic cutlery, paper or plastic plates, paper serviettes or disposable chafing racks to keep food hot after delivery. This is considered more low-end catering, which is both cost-effective and relatively informal and is perfect for casual get-togethers. There is also more formal or high-end hosted catering, where waitrons are employed by the caterer and china, glass and stainless steel tableware and table settings are provided as part of the service. On these occasions, the caterer might be in personal attendance to ensure that the service and food are delivered to a high standard. If the venue has kitchen facilities, the food might be prepared and cooked on-site, but if not, the preparation and cooking are done in the caterer's kitchen and thereafter transported to the venue.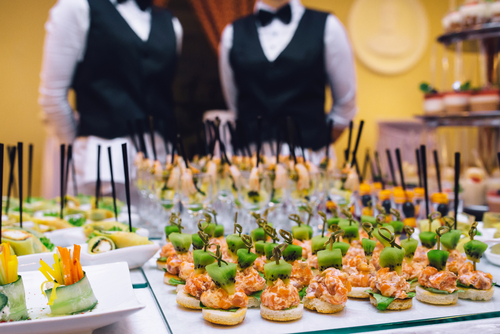 Types of Catering
There are many different types of catering, covering a wide range of applications. For instance, catering may be called for on one-off celebrations such as those listed below, or may be a daily demand for office or factory canteens, hospital kitchens, franchise restaurant chains, long-haul aircraft, cruise ships, film locations, or even snack and lunch vendors who service various office blocks. Smaller catering companies may serve the same menu on a daily basis, or supply a selection of different menus over longer periods of time to allow for variety and seasonal produce availability. Subsidised catered canteens may form an integral part of the corporate or commercial environment, providing delicious, nutritious and sustaining lunches which ensure that employees are able to operate at peak performance throughout the working day. There is also the added and very definite advantage of having a relaxed luncheon period in which employees and management are more likely to build good working relationships, whether discussing work or personal matters, and therefore strengthen the company culture and loyalty. If there is no kitchen facility, it is possible to hire mobile caterers who will deliver the prepared food, set it up on portable or collapsible buffet tables, serve it and then clean up before they leave. This is a good choice for a small- to medium-sized company get-together or year-end function, and would certainly be more economical than taking the staff out to a restaurant, but would probably not be feasible or cost-effective for lunch on a daily basis. As far as catering is concerned, it boils down to cost versus value and impact, which primarily dictates the menu, presentation and expectations of the function being catered for.
What must a caterer account for when compiling a menu?
A caterer has a number of factors to consider when compiling a menu for any occasion, be it formal or casual. The most basic factors include the following :
1. What is the occasion to be catered? A wedding, birthday, anniversary, engagement, corporate party, team-building exercise, a boardroom luncheon, a product launch, training course, promotional event or cocktail party, etc. A versatile caterer can cover all such functions.
2. Is the occasion formal or informal?
3. Number of people to be catered for.
4. Any special dietary requirements, i.e. vegan, vegetarian, halaal, kosher, low-carb requests, allergy or hypersensitivity restrictions, in addition to the requested menu? If so, these foods must be clearly marked as such and placed separately to the main food array.
5. Cost per head. This will directly affect the range of menu choices. The more expensive the menu choices, such as smoked salmon, seafood, venison, champagne cocktails, etc., the higher the cost per head. The caterer will be required to guide and advise the client in this regard.
6. Is the menu for a sit-down meal which is primarily attended or served by waitrons or will it be buffet-style where the guests serve themselves from a central food array? A caterer should check the venue before the day of the occasion to ensure that there is sufficient room for guests to move about and serve themselves from a buffet station. Since people tend to move in groups at such occasions, there must be adequate room to accommodate them. Starters and soups should be at the beginning of the buffet, as well as plates and bowls, which will give guests an idea in which direction to move and avoid 'traffic-jams' and congestion.
7. Does the menu call only for hot and/or cold finger foods? Are these to be sweet and/or savoury? How wide is the range of foods on offer to be? Must it include specially made foods such as cocktail meatballs, samoosas, savoury tartlets, individual sweet pastries, or just a variety of sandwiches?
8. Is the food to be fully prepared and cooked off-site or at the premises where it is to be served? If it is prepared off-site, how is the food to be safeguarded for hygiene purposes – i.e. kept at the correct temperatures and adequately covered if it is not going to be eaten immediately? Is there the required equipment available at the venue to maintain the temperature of the food until it is served, and if not, who will organise this and pay for its use?
The above are just some of the factors the caterer has to take into account when accepting a commission from a client. It can be seen, therefore, that catering is not simply about being a creative or imaginative cook. As a caterer, it is always wise to remember that you are not cooking for yourself and according to your particular likes and dislikes, but may have to undertake the preparation of menus which you may not fully agree with. It is always best to remember that the client is paying you for your expertise and service and has the final say in the choice of menu, even if you do not fully agree with these choices. Caterers are professionals who have the ability to create and produce amazing foods to suit any taste and function, no matter how large or small, save their clients both time and money and add flair and style to even the simplest occasion.