What do you do when you simply HAVE to have a swimming pool to keep yourselves cool and your children occupied during the long, hot summer months but don't have the time or expertise to maintain it in a clean and usable condition? How do you keep the water sparkling and clear all the time without spending hours every day? And, without an automated pool cleaning system, how do you keep the sides free from algae and debris? And, ugh, how do you clean up the bugs, leaves, dust and occasional mouse which seem to find their way into the water when your swimming pool cover does not present a solid barrier against the elements? So many times I have seen swimming pools at less than their best, presenting a blight on the garden landscape generally, and certainly not inviting for anyone planning on a quick dip.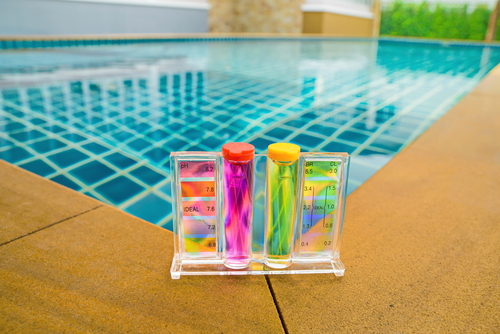 Is pool maintenance difficult?
Basic pool maintenance is simply a matter of making sure that the pH balance of the water is kept at correct levels, thereby preventing the growth of algae and ensuring that the water does not irritate the eyes and mucous membranes whilst using the pool. Simple pool cleaning involves keeping the water surface and interior of the pool clear of debris which blows or drops into the pool on a daily basis, especially if the pool is not covered when not in use. We all know the speed at which leaves from overhanging trees and shrubs find their way into the pool, and it is better to get them out quickly rather than letting them rot and become slimy in the water over time. Surface leaves can easily be removed with the use of a hand-held pool net, and it is actually quite fun going after those pesky items! If children are involved, it is easy to include them in the exercise with you by making it a game to see who can collect the most leaves. As a general rule, children love to be involved in games, so make pool cleaning a game and use the extra labour whilst you can. You can be sure that your offspring will not be contributing for very long, as boredom and more interesting pursuits will soon distract their attention from the job in hand. Of course, your pool filter will also play its part in drawing debris away, but it is an expensive exercise running the pump and filter for long periods and you will have to keep a close eye on it to ensure that it does not become clogged.
Isn't my mechanical pool cleaner enough?
You could, of course, also opt for an automated mechanical suction cleaner which will assist in keeping the bottom and sides of the pool clean and free from algae, dust and debris. These devices are quiet and unobtrusive for the most part and do their job at specific times which fit in with your schedule. I remember being told by my brother many years ago that his "pool gobbler" used to occasionally escape from the pool during the nightly cleaning cycle and would wake him and his wife by 'walking' itself up to their poolside bedroom window and very noisily trying to clean the wall! I very much doubt that the more modern versions could escape their pool confines, and are more likely, I understand, to get themselves stuck in one position for long periods, so it is best to run them whilst you are nearby and can sort out any issues immediately.
The specialists are there when you can't manage alone
So, clearly, there is a lot that the homeowner himself can do to maintain his swimming pool on a regular daily or weekly basis, but there are issues which are definitely out of his area of expertise. No matter what material they are made from, pools will suffer the effects of wear and tear over time, exposure to harsh UV rays, and the encroachment of nearby tree roots, resulting in cracks and surface degradation. A pool specialist will definitely be required in such a situation. Not only do pool specialists maintain and clean pools, they also offer solutions to more serious problems such as problematic pumps and filters, sand-filter overhauls, occasional acid-washing of the pool surface to remove stains and repairing cracks and broken plaster in and around the pool. Their general maintenance services include scheduled routine service calls, troubleshooting to avoid potential problems, routine water analysis and treatment, holiday maintenance, complete cleaning of pools which have been neglected for a long time, and painting of pools. They may also offer to supply and fit heating pumps or solar water heaters for swimming pools, but you would need to confirm whether this service falls within their portfolio, as not all pool cleaning specialists will offer this facility.
Reasons to maintain your pool year-round
A swimming pool is a tremendous asset and adds much to the enjoyment of one's home, as well as forming a great on-site social and entertainment centre during the summer braai months. Whilst it may be used mainly during the summer months, a swimming pool must be maintained throughout the year, albeit less rigorously during winter when many pools are covered and largely ignored. If you stick to a proper maintenance routine and call in the specialists when needed, your pool will give you many years of fun and enjoyment with the minimum of trouble and expense, so if you feel unsuited to the effort required, call in the people who are skilled, experienced and knowledgeable in all aspects of pool care. Finding a pool cleaning specialist is so much easier when you use the services of an online search engine such as Uptasker, which will provide instant information on customer reviews and online ratings.
Make your pool a "worry-free" asset
A swimming pool is designed for enjoyment, not worry and bother. Do the best for yourself and your pool by looking after it well, then relax and make full use of the opportunities it offers. The hours of fun and enjoyment it provides make it all worthwhile, so why hesitate? The privacy and convenience of your own pool cannot be beaten in our South African summers, so take care of it whilst it takes care of your needs. Most of all, enjoy!