I was also able to utilize the skills I was learning as I completed coursework. I took entry level positions within companies that would allow me to practice my new skills and learn additional skills that would benefit me for the rest of my working life and employment prospects.
I took office positions that allowed me to utilize my Microsoft Office skills in Excel, Word, Access, PowerPoint, and the rest of the programs associated with Office. I first too a secretarial position with my now ex-mother-in-law assisting her with Bookkeeping and business related services including customer correspondence, billing and tracking purchases. I was able to practice the things I learned in a smaller workplace environment before moving to larger firms like churches, where the need and speed of assignments came at a much faster pace. The need was greater, I was responsible for printing weekly church service bulletins, creating newsletters, taking meeting minutes and typing them, then to them distribute to council members, and distribute other materials to church member mailboxes.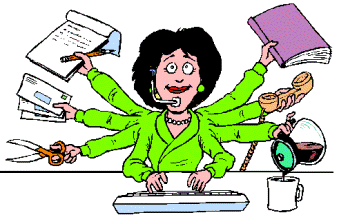 The circle of working experience has begun to resurface as the mailing experience came back into play, while the rest of my secretarial skills remained a vital part of my career, and still remains one of the biggest assets in my field. I've been responsible for all aspects of customer correspondence in a car dealership, all secretarial aspects of a position within a home appraisal company, building a brand new weed control company's databases, gaining new clients, bookkeeping, creating reports, and setting up an organizational system. I've also taken a position within a multi-million dollar online retailer's warehouse where not only was I the secretary to the CEO, I was also the IT department, warehouse manager, inventory control specialist, and graphic designer. I've gone completely full circle holding waitressing positions in conjunction with many of these positions, as some were only part time.
I'm happy to possess all these useful skills, I love to learn the most up-to-date means of performing these duties, and to keep them fresh in my arsenal of employable skills. I may not use all of them regularly, I might not even use them for months or even years, but it is essential to keep them available for when they are needed. Having this huge of a variety of skills can sometimes be a downfall however, when applying for open positions, there are a variety of things that can happen, such as:
Being over qualified, employers can become fearful of hiring you because they don't want to pay that kind of money for the position…. Meaning they don't want to pay you what you're really worth.
Having to remove skills from your résumé in order to qualify for positions, which can often lead to looking underqualified for the position
And either way can lead to accepting a position that will pay less than you deserve, which tends to lead to unhappiness with your job and looking for a different employer.
My solution to all of these issues was to be my own boss! I got really sick of the rat race, being unhappy in my position, or the working hours, being paid much less than I deserved, and not being able to provide for my family as we were accustomed to living. Starting a business requires capital, start-up costs can be minimized sometimes, but in the end it takes money to start a business. Purchasing licenses, equipment, registering your business, obtaining federal and state tax numbers, etc. all require you to spend money.
You have to spend money to make money!
I opened my business in 2006, taking on small projects and building my reputation while working for someone else. I didn't risk everything to start my business, although many do, there's a huge fear of not making ends meet without that steady paycheck coming in. A new business meant advertising and marketing, back in 2006 things weren't as advanced as they are today, typography meant drawing and positioning on a whiteboard prior to being able to produce a workable print, there wasn't a huge social media market either, so gaining clients meant pounding the pavement and making cold calls to new businesses, it meant researching newly registered businesses through my Business Register and other resources. I am still using these resources to find potential clients and their business information for marketing purposes. The advancements in technology have greatly reduced marketing and advertising costs by reducing the number of paper prints required. The ability to advertise for free in multiple ways through social media has made marketing a breeze for business owners.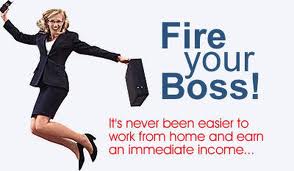 Many people opt to start a business they can work from home to reduce overhead costs. It's a great way to begin a business that allows you to work at the times that are most convenient for you, it allows you to work in whatever is most comfortable for you, even pajamas or just your underwear, naked if you please, just watch yourself when making or accepting Skype calls to meet with clients. If you're thinking this is the way to go, you MUST make sure that you can focus solely on your projects, here are some tips to be the most productive in a home office:
Set up your office in a quiet place of your home, one with the least possible amount of distractions.
Notify others in your home (including your children) that when you are in this space, that you are not to be disturbed unless it's an emergency.
If you find that you have more distractions in that location, MOVE to someplace else in your home or even a local internet café or coffee shop.
Owning a home based business requires you to be able to juggle. No, not bottles or maracas, or even balls, but it does require you to handle multiple clients at once, dedicating the time necessary to each client. (You will learn that each client feels as though they should be the most important to you, they all want their work completed last week, and none of them want to pay what you're worth…. Here's my advice on that, DON'T accept any client that wants to haggle or negotiate pricing (or you still won't be making what you're worth!)…. They're not the kind of clients you want and often have trouble collecting from!
Most importantly….YOU MUST BE ABLE TO FOCUS ON YOUR WORK AND MANAGE YOUR TIME WISELY! (While juggling advertising, invoicing, billing, marketing, clients, and everything else)
You will essentially be working 3-4 jobs at once along with your current project list, if you're unable to commit to this, you should look for other employment options.
REMEMBER that it takes failure to become successful, by that I don't mean your business will fail, perhaps looking at your past employment history as your "failures" (or stepping stones) to becoming your own boss is more appropriate, however you learned lessons from those "failures" that have allowed you to become successful. You became aware of jobs you enjoyed, jobs you hated, skills you acquired, and company mistakes that you want to avoid and even how to avoid them.
I would suggest joining a Networking Association that is related to your industry, or attending other networking events as a means of learning from others mistakes, successful tactics, and being able to ask others in your industry questions to assist you in being as successful as you can be, you can even find a mentor that will assist you in growing your business.
Want to know more? Comment with your questions below this post.