There are a number of reasons why furniture may need to be restored to its former glory, or sympathetically updated to fit in with a more modern decorating scheme. As with everything else, time takes its toll on furniture and wear and tear is a natural and expected consequence of actually using that furniture on a regular basis. Furniture and upholstery restorers really come into their areas of expertise, though, when it comes to restoring furniture which has been badly damaged and requires a major restoration.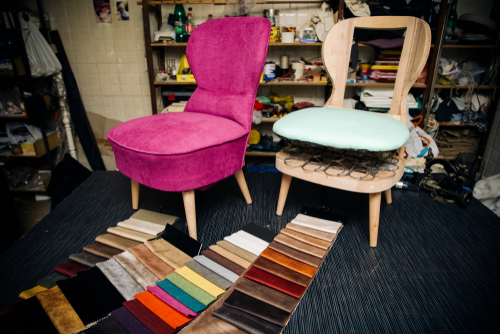 Do furniture and upholstery restorers only work on antique items?
Furniture restorers are multi-talented in so many different ways. They are equally able to restore modern furniture which has been damaged as well as antique furniture which needs an overhaul or where ornate sections have been damaged over the years. Furniture restorers are craftsmen of the highest calibre, with a sound knowledge of different styles of furniture as well as the intricacies of how any article is made. Many people collect antique furniture, either because these are heirloom pieces which have been handed down through the generations, or simply because they enjoy the thought of keeping beautifully crafted items in use in their homes. To my mind, antiques are definitely an 'acquired taste', one which I have not personally succumbed to. I do not deny that some antiques are exquisitely made and carved and definitely add a touch of opulence to any setting. But what do you do when your great-grandparents' cherished settee or bureau – or any other item of furniture – is passed down to your care, but is not in the best condition? If it is simply that the item needs to be thoroughly cleaned or sanded down and reconditioned, all well and good. But what do you do when ornate sections such as claw feet are damaged or even missing? You call in the furniture restorers and let them repair and revitalise the article in a sympathetic manner which enhances and strengthens its appearance and restores its original good looks.
Need advice on how to care for older furniture? Ask the specialists!
Many older pieces of furniture in South Africa are made from solid, somewhat heavy and valuable woods such as Black Stinkhout, Yellowwood, Clanwilliam Cedar, Imbuia and African Rosewood, to name but a few of the many varieties of African woods. Nowadays the trend is to provide readily available furniture made from cheaper woods like Pine, which can be stained to resemble one of the hardier, more expensive woods. But if you have the original, genuine article, you need to ensure that it is properly cared for in order to make it last. Even cut wood benefits greatly from receiving the correct nourishment in the form of wood oil (linseed or Tung, or even olive oil) and natural beeswax if it is not varnished or coated with paint or any other wood preservative. However, when it comes to antique woods, it is best to ask the specialists which preservative to use.
A modern coffee table was badly damaged in a house move. Can it be repaired?
Even with the best of care, furniture does get damaged, and the easiest way this happens is during a house move. Removalists are highly trained professionals, but accidents happen and sometimes your furniture does suffer damage en-route. During one of our own house moves, a nearly-new and expensive coffee table was delivered in an extremely poor condition, with deep gouges on the surface and one corner of the table completely broken off. The removalist company, fortunately, uses a very reputable furniture restorer who was able to restore the table to an almost-new condition, albeit slightly darker in colour than it had been previously. There is no visible sign of the damage it sustained, and the table once again has pride of place in the living room. No amount of amateur home restoration would have helped and without the expertise of the professionals, a beautiful table would have been consigned to the dump.
I want to update an old bureau to fit in with my other furniture, yet still keep its character. Who can I call to help?
Furniture restorers are the perfect specialists to call when you are faced with such a dilemma. They are the people who can give you the best advice on how to update an old, tired item of furniture in such a manner so that it complements the rest of the furniture in the room. Don't be too quick to pull out the paint and give it a once-over – rather ask a specialist for advice on how to rejuvenate it and make it a beautiful and unique addition to your existing furnishings. They will do everything necessary from repairing scratches and missing handles, to finishing the article in a style which suits you. To find out more about furniture and upholstery specialists, see Uptasker's articles and suppliers' listings.