There are two types of people in this world; dog people and cat people. If you sit in the latter category, I pity you. Not only because dogs are super chill, therefore, making your cat-loving very uncool, but also because doggies can turn you a profit. Dog walking is generally considered to be a little pocket money earner for teens, but exercising your furry friends can be very lucrative indeed. A recent search of dog walking pay rates online shows average 45-minute leg stretches with Fido can bring in 60 – 80 ZAR. Not enough to enable you to retire early, but here are five reasons why the Uptasker team think that dog walking makes for a great side hustle.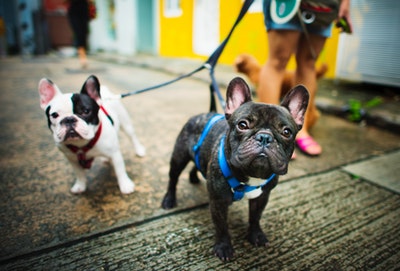 Flexible Hours
You can weave dog-walking around your full-time career. The beauty of the job is that it can be done at any time, depending on what works for you and the owner. When you create your profile on Uptasker, you can set your availability and price; what an excellent way to become your own boss! The review functionality on Uptasker enables your customers to rate your dog walking service, and positive reviews tend to attract more business. So enjoy the flexibility of this nifty number but also demonstrate flexibility for your customer; that 6 am walk might not sound appealing, but you will get brownie points for making dog and owner happy.
Fitness
No brainer but if you are out stomping with your doggie clients a couple of hours on most days, you are bound to shape up pretty quickly. Walking is so much more forgiving on the joints than a hard high intensity training training class and likely your time spent with your temporary pet is so precious that you may forget you are even exercising. There is nothing better than accidentally getting fit, and dog walking is the best way achieve this! A couple of other health benefits associated with dog walking include:
Reduction in high blood pressure
Boost in energy
Improvement in cardiovascular fitness
Mental Health
The great outdoors can be incredibly soothing for the mind and just the tonic required for those suffering from mental health problems. A recent study showed that only an hours exercise a week can help to prevent future depression, while those currently battling the malaise of the mind can also alleviate their symptoms by regularly hitting the pavements. Another fantastic benefit of dog walking is that it is quite a grounding activity. If you have lots of stress or worries, walking a dog can temporarily eliminate these emotions. There is nothing better to keep you focused on the present moment than picking up a big dog poop!
No skills required!
The great thing about dog walking as a side hustle is that there are no skills required. Ideally, you will like dogs; this certainly helps, but aside from that, the dog walking world is any willing aspiring business owners oyster. In an environment where entrepreneur types are earning a buck off the internet, it is refreshing that there are options for boosting one's income that doesn't require expertise in graphic design or a diploma in freelance writing.
Making dogs happy
There is nothing on earth better than putting a smile on someone else's face. It still counts if that face is a hairy one, and I don't mean the significant other in your life. Dogs love nothing more than walkies, meaning you hold all the power to bring joy to their little lives. Forget about bicycles in Beijing; the real question is how many dogs in South Africa?! Some estimates put the doggie population at approximately 9 million. The country is home to over 56 million people, so that's quite a healthy dog to human ratio. What do the statistics mean to a person who just stopped by for a read of this blog? That there is a big market for dog walking in South Africa. Join the market right here on Uptasker!