Decking and its advantages far outstretch our imagination, especially in todays commercial and residential areas.
The use of composite decking has become a favourite for those not having time to do all the required maintenance that timber demands, with the guarantee of at least 10 – 15 years of use. What is this Composite decking we hear of? It's the recycled wood fiber with high density Polyethylene – environmentally friendly and splinter free! Providing an appealing look, this affordable and extremely durable decking is the answer to any property owner wanting to add value to it. Usefulness indoors and outdoors, make this type of deck the superior choice.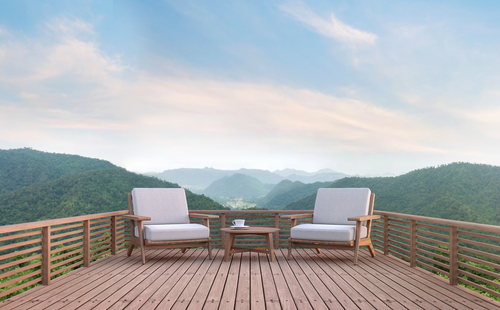 Wooden Decking just as great
Wooden decking is manufactured according to customer requirements, i.e. timber types and colour. With this the customer must be advised that continuous maintenance and treating will be required. Giving any given area a natural look, inspires people to relax and let creativity be enhanced, especially as we spend most hours indoors. Strength and durability should be balanced by affordability, teak wood being recommended by most. Maintenance on your deck will keep it looking fresh and lively, ensuring an overall blended indoor and outdoor look of beauty for an extended period.
In the Commercial Sector
The utilization of decking in the commercial sector can contribute to extensions in office space and even provide an outside sanctuary for employers and employees to enjoy on breaks. In the office setting, this can be of great value, boosting creativity and mood with cool freshly designed spaces. No more dull and dreary workspace that demotivates! Clients love the appeal of a classy indoor and outdoor area, selling the pride you have in your property. With the right contractor, decking can be something magnificent, using the correct tones, textures and taking care to tend to the high traffic areas which would need to be more durable.
Modernization
There is no stopping it, the era of modernization is here. The future of decking is looking promising. Decking is taking lead and ever changing to get with the times. With its many facets, it can be of value when building lofts, patios, timber homes and around swimming pools. Perfection is key when it comes to creating the perfect deck, just like an artist takes to a canvas – arrangement of grains and colour before initiating the installation process. Interlocking panels make this the perfect, quick and easy installation for the modern man/woman.
Decking should entice the viewer
Patios in Summer are where most want to spend time, especially if the correct setting is staring them in the face. Floating decks are exquisite and truly luxurious, making any moment a memorable one. A pool deck adds property value and should be a composite wood look, seeing as it would be at risk of sun and water exposure for long periods of time. Non-slip and splinter free surfaces are a must around a pool, providing safety and security for kids and adults alike. The last thing anyone would want is a nasty fall near a body of water.
The added Pros' of it all
Decking with its natural look can be installed on most terrains(bumpy, rocky, uneven grounds), seeing as it is elevated off the floor. High quality materials and products secure a longer durability, ensuring the perfect look for longer. With mold resistant, anti-microbial properties, composite decking is clean and hygienic with added water resistance. Certainly one of the first thoughts to pop up when deciding on indoor or outdoor floor coverage should be decking. Safe for the whole family – the young, mature and super mature…pets not excluded.