A chef is a professional cook
A chef is the consummate professional in the kitchen, able to produce the most delicious and appealing meals which are the result of skill, knowledge, experience, a genuine love of food, artistic flair and natural cooking talent. Chefs are catering experts and instinctively know how to pair spices and seasoning with meats and vegetables to create a meal which is unique and individual to his or her personal talents. A chef will turn any meal into an occasion which is relaxed and memorable, and can be relied on to take the worry off your shoulders when catering for special events or larger parties where the meal has to be perfect.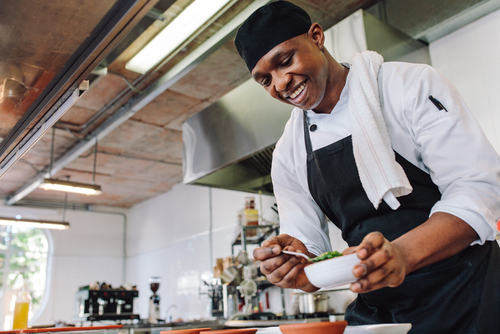 A chef is constantly creative and forward-thinking
A chef is the inventive and driving force behind many catering companies, as it he or she who creates the dishes to be served, compiles the menus and oversees all aspects of the preparation, cooking and presentation of the food. A chef may work alone or supervise other staff members in restaurant or hotel kitchens where the overall responsibility for the provision of all meals falls on his shoulders. His specialisations may also include the preparation of salads, desserts and pastries. He needs to ensure that the quality of the food which leaves his kitchen is up to specific and clearly stated standards and that this remains constant at all times. He is responsible for creating new dishes and menus, either according to seasonal availability of ingredients or simply to ensure that the menu selection does not become stale and uninteresting. He may be responsible for following general menu trends in his area or create highly unique menus to attract a constant flow of new and repeat customers to his restaurant.
Meeting hygiene and safety standards
As he has overall responsibility for the kitchen in which he works, a chef is also responsible for ensuring that the kitchen and working areas are kept to a high standard of cleanliness and safety. Although he will not do the actual cleaning himself, he will supervise the regular cleaning and disinfecting of all equipment and utensils used, and ensure that the staff are working according to agreed hygiene practices, especially when handling and serving food.
He works all hours and is quick-thinking
Due to the nature of his work, a chef may be required to work outside of normal business hours, either preparing breakfasts or food to be served later in the day, or during evening restaurant hours, where he will remain until the last customer has left the restaurant, after which he will supervise the final cleanup and prepare the food order list for the next day. A chef has to think on his feet, and be able to make fast and well-judged decisions in times of crisis, such as equipment breaking down in the middle of an evening, power outages or unplanned shortages of any item, requiring alternative menu choices to be provided.
A chef is a public relations officer
Sometimes things simply go wrong. Every restaurant has experienced food being returned by unhappy customers and it is often the chef's responsibility to resolve the issue in a manner which brings the customer back to the restaurant rather than simply walking away. We all know that one unhappy customer will spread the word to many more people, and no restaurant can afford to lose customers they have never even served once. Happy customers will bring their friends and colleagues to the restaurant and the reputation of the establishment will spread far beyond the reach of any advertising campaigns. Happy customers are the best advertisement any restaurant can have.
Catering services
Catering services need chefs and cooks in order to run their businesses. Whether it is preparing and serving a formal three-course meal, catering for a buffet-style function, preparing food platters or organising and catering for an outdoor event including a spit-braai, potjie- or braai-style meal or even cold picnic baskets, a chef or cook is central to the proceedings. These are the people who plan, calculate and order the ingredients and drinks, prepare and cook the food and ensure that everyone is served on time. They take the strain off the host and allow him or her to relax and enjoy the event and mingle freely with the guests without worrying about the food. And, of course, catering chefs are vital to the success of special occasions such as weddings, bar mitzvahs or bat mitzvahs, birthday parties, anniversaries, graduation parties and other celebratory functions, as well as more sombre events such as memorial and remembrance services. For more information on catering services, see our catering articles.
How to find the right chef
Check their online ratings and customer reviews
Whatever occasion you need to cater for, there is a chef available to meet your needs. They are becoming more visible and easier to find online through their websites and by using search engines such as Uptasker. Uptasker is an extremely useful and user-friendly site for finding the right supplier quickly and efficiently in your geographical area, together with their online ratings and customer reviews. Not only can you find links to their websites, but have the option to obtain and compare quotes from various suppliers from one location. Alternatively, you can search through magazines, newspapers, flyers, the Yellow Pages or through word of mouth referrals. Always check their ratings and customer reviews, as these will give you valuable information on their reliability, range of services and foods, adaptability to different needs and general pricing. Check sample menus, if available, and ability to cater for specific needs such as vegetarian-only, if required. Always ensure that there is a clear written understanding of the exact menu to be provided, whether it includes soft or alcoholic drinks, timing and budget constraints, in order to avoid possible misunderstandings or omissions on the day itself.