A celebrant is an adult person who conducts and solemnizes ceremonies such as weddings, baby naming (christenings), wedding renewals and commitment ceremonies. For those couples who do not wish to have a church wedding, and would prefer their wedding day to be less formalized or held in a specific place which is special to them, hiring a celebrant would be the way to go.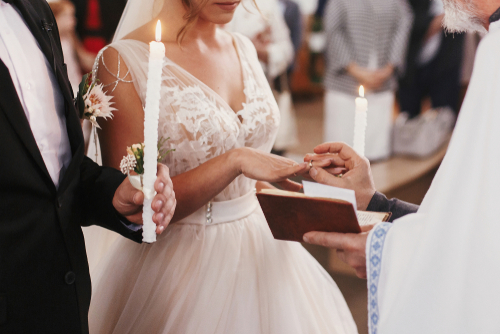 What are their duties on the day?
The celebrant will perform the ceremony exactly as the couple would wish, allowing them to have a wedding which is uniquely personal. Since celebrants do not have to officiate according to the dictates of any particular church, each ceremony is geared around the personalities and vows of each couple. A celebrant will write the ceremony according to the couple's wishes and deliver this on the day itself. Celebrants may also be involved with liaising with the venue, photographer, musicians and general layout of the venue to ensure that the free-flowing nature of the ceremony is unimpeded and everyone is aware of what is expected of them.
Remember the marriage formalities!
No marriage is legal and official unless it has been registered with the Department of Home Affairs, and all required documentation has been submitted to them prior to the ceremony taking place. It is also important to ensure that, if a foreign national is marrying a South African citizen, the couple attends an interview with an Immigration Officer at the Department of Home Affairs to obtain clearance for the marriage to prevent "marriages of convenience" in order to gain citizenship. No matter how formal or informal the actual wedding ceremony may be, these legal requirements must be met beforehand and the necessary paperwork completed and lodged. It is useful to remember that, unless an ante-nuptial contract is drawn up through an attorney before the ceremony, marriages in South Africa are deemed to be in community of property, so this needs to be considered carefully beforehand. A celebrant will be able to guide the couple on the formal requirements to ensure that the marriage is properly legalized, although they do not have the authority to do this themselves. No matter where you get married, or by whom, the legal documentation must be completed as required. The celebrant will provide the marriage certificate and ensure that all other relevant documentation is submitted on time to the Department of Home Affairs for registration of the marriage.
Keep wedding costs affordable – it is, after all, just one day in your life
Weddings, in particular, are extremely expensive occasions which drain the budget very quickly. When getting married for the first (and hopefully, last) time, it is natural to want the occasion to be perfect, but the costs involved in just getting to that point are often extremely high and there is an incredible amount of stress leading up to the actual wedding day. It is not surprising that it is becoming more popular for couples to opt for a cheaper and less formal ceremony with fewer guests. Not having to belong to any specific church in order to be married there allows the bridal couple more freedom of choice, and is especially helpful if the bride and groom are of different faiths. A celebrant is able to bridge the religious divide by performing the ceremony according to the wishes of the couple, allowing them to concentrate more on their own promises and vows which are meaningful to them.
A celebrant is yours for as long as you need
A celebrant will usually only carry out one ceremony per day, and there is therefore no rush and no need to panic if the ceremony is slightly delayed for any reason. Before the day of the wedding, the celebrant will get to know the couple to ensure that their day will be an unforgettable and very personal event. Celebrants, having experience with different types of weddings and venues, will be able to offer advice and talk through the ceremony with the couple, ensuring that enough time is given to all aspects of the planning. Couples who have been married before may have children from their previous marriages, and may want to include them in the actual ceremony, with vows including the children, which is a special start for the new blended family. There are some couples who even include their furry 'children' in their ceremonies as part of their family. Well-behaved dogs can make the most amazing and cutest ring-bearers! Because the celebrant has been involved in the planning and timing of the ceremony, any such unique factors can easily be incorporated into the day. A celebrant will cater for weddings of any size, but it is probably fair to say that most of their marriage ceremonies concentrate on smaller gatherings which are very personal and private.
Location, location, location …
Modern non-church weddings may be held almost anywhere you choose – on a beach, a game farm, a wine estate, on a mountainside, in a private home or backyard, on a yacht, in a cave, on a jetty or anywhere else which holds a special place in your heart. Some weddings have been held on the same spot where the groom proposed and which therefore holds sentimental value to the couple. The possibilities are almost endless. A non-church wedding may be held in a small private chapel on an estate or farm, offering the appearance of formality and tradition to an otherwise relaxed and bespoke ceremony. The celebrant will be able to talk the couple through the steps and timing which will result in the day – or night – proceeding exactly as planned and allow for special private moments between the couple.
Celebrants offer non-denominational ceremonies
Many celebrants will offer non-denominational ceremonies for couples who are not religious, come from different denominations or faiths to each other, or simply prefer not to include religion in their wedding ceremony, particularly in respect of civil unions or same-sex marriages, which are now legal in South Africa. Of course, if you wish to have a religious ceremony according to traditional norms, a celebrant will be able to offer this as well.
Make it YOUR day and YOUR choice
When all is said and done, your wedding day is a uniquely personal and happy occasion shared with those who are closest to you, and should be conducted in a manner which suits your wishes and personalities. Whilst large church weddings are still very popular, the trend for smaller, more intimate and relaxed ceremonies is gaining momentum everywhere as couples choose to style their day to suit their values and personalities. Whether you are getting married for the first time or re-marrying, or you are renewing your vows as a symbol of your commitment and love, a celebrant is the person you need to help you achieve this in a more intimate setting which is tailor-made for you both.