A business's most important asset, apart from its services and products, is its employees. This is a fact which is irrefutable and should never be overlooked. Whilst the products the business sells is paramount to its profitability and existence, it is the staff who interact with the buyers and are the driving force of the business. Good employees who deliver exceptional service through high efficiency, knowledge and skill levels are the human factor which oil the wheels of the business and keep it running profitably. Business owners should never overlook the fact that their employees are human and have to be taken care of just as much as the business itself. This is why a Human Resources Department plays such an important role in business life, particularly in larger companies with a large staffing complement.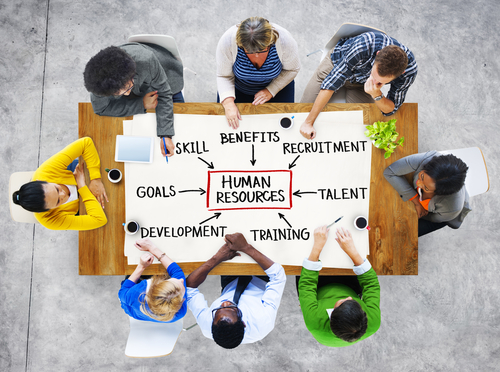 Human Resource specialists are multi-faceted
A Human Resources Department in any company is responsible for ensuring that the staffing side of the business runs efficiently. Nothing is more true than the old axiom that "a happy employee is a good employee". A happy employee will consistently deliver quality work and service which will continuously add value to your business and sales. Human Resources carry a fairly large weight on their shoulders, from hiring and firing, setting clear job descriptions and salary grades, ensuring that all employees are fully aware of the company policies and procedures, overseeing and implementing training needs and solutions, and maintaining clear and unbiased employer/employee relationships for clear and open communication at all times.
Screening, appointing and training new employees
The responsibility of advertising for, interviewing, and short-listing potential new employees falls to the HR specialist. From the point of putting forward to management the best applicants for the job and checking their references and skills background, to following up with unsuccessful applicants and formally appointing new employees and acquainting them with all necessary manuals and policies, the HR specialist is the go-to contact person. When applying for a new job, potential employees are effectively screened, presented and, if appointed, continuously monitored in terms of aptitude, attitude, performance and training needs. Throughout their career within a large organization, these four factors will determine the rate at which an employee progresses within the organization. Since technology evolves at ever-increasing speeds and organizations continually expand and adapt to change in order to survive, it is vital that key employees are provided with up-to-date training at all times. The Training Department will usually fall under the overall umbrella of Human Resources, and these two sectors work closely together. Whilst the training needs of an employee can be identified by HR, it generally falls to the Training Department to provide the required training.
Conflict resolution
To a large extent, HR is responsible for maintaining good working relationships between employees and the employer, as well as between the employees themselves. Arguments and political in-fighting caused by job jealousy or resentments, personality clashes, feelings of being overlooked by or perceived favoritism by management can all bring down the general morale of a company. The HR specialist will have to resolve a potentially damaging situation through a tactful and workable approach which leaves all parties satisfied with the outcome, which is not, in itself, an easy task. An HR specialist must be seen to be impartial and unbiased in his dealings with both management and staff, and have a problem-solving approach and the emotional intelligence which can defuse a problem rather than aggravating an already tense situation. In some respects, HR specialists may be seen as counselors, as it is their responsibility to judge situations, both personal and work-related, which may be affecting an employee's performance and attitude, and try to find a solution which will suit both the company and the employee. In their role, Human Resources specialists must be able to communicate, both orally and in writing, to a very high standard. This is particularly important in areas where they are required to document meetings and procedures involving discipline and grievances, to ensure there are no ambiguities and that they accurately reflect the content of such meetings. Clear and concise communication is vital, as this is often used as historical evidence of such meetings and procedures and recorded in the employee's personal file, as well as being accurately communicated to all parties involved.
Identify and develop employee skills and knowledge through training
An HR specialist ensures that there is a plan for the continued development of employees to allow them to meet new technological and development initiatives within the organization. This is a collaborative effort with management and the training department to ensure that every employee is provided with the opportunity to grow to their full potential. It is always the best option to retain and train good personnel rather than continually appoint new staff members who will have to undergo the orientation process and take valuable time to settle into their new positions in the company. Whilst bringing new blood into the company and introducing new ideas this way is a valuable method of keeping the business up to date.
Keep abreast of internal and external developments
An HR specialist is not excluded from the need to adapt to meet new developments and changes in the market. He must be able to master new technologies such as working with social media and the internet in order to remain effective in all areas of his work. He must be fully conversant with different software systems which affect the HR processes, particularly with regard to hiring and training applications. He also needs to continue his own development and training in his field, to ensure that he is consistently updated on changes in legislation, internal policies and trends which affect both his role and those whom he represents, i.e. all personnel within the organization, from senior management to tea-ladies and cleaners.
Payroll administration
The HR specialist is responsible for ensuring that salaries and wages are paid on time and are accurate. He needs to be fully aware of factors which might affect the amounts owed to employees, such as study, sick, maternity, annual and compassionate leave owed or taken, overtime worked, bonuses due, repayment of loans granted to employees, and similar factors. In order to ensure that his records are accurate, he must liaise with department heads, management and sometimes the employees affected before payment is made. Nothing will bring down employee morale more than being paid less than agreed or expected, or having money deducted from their accounts because of incorrect over-payments which have to be reversed. Whilst book-keepers or accountants can fulfill this function in smaller companies, bigger organizations with larger staffing needs will rely on their HR specialist to oversee such payments.
HR specialists ARE important
There is no doubt that there is a definite place for Human Resources specialists in today's world, fulfilling many vital functions in maintaining the wellbeing, motivation and development of the employees in an organization. A good Human Resources specialist is worth far more than his salary in material terms and should never be overlooked for his contribution to the smooth running and success of any organization.