When people think of teaching, they nearly always immediately conjure up images of classrooms filled with children and young adults, all learning school subjects from a set curriculum. In the modern world, however, learning and teaching have taken on a whole new aspect which expands the education and empowers the individual even further. Advanced learning beyond school subjects has become possible and affordable through the medium of the world wide web, where face-to-face distance teaching is now possible from one side of the world to another.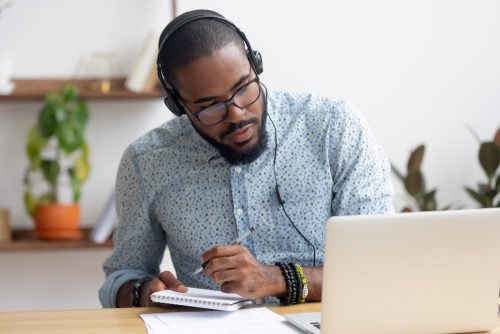 English is the lingua franca of global business
It is commonly acknowledged that English is now the lingua franca of global business. According to the highly accredited teaching platform, TEFL FullCircle, "A lingua franca (or working language, bridge language, or vehicular language) is a language used to make communication possible between people not sharing a mother/native language." A working knowledge of English makes it possible, for instance, for someone from Poland who does not speak German to share information or have a conversation with a German-speaking person who does not speak Polish. English therefore becomes the bridging language which makes communication possible. It is clear that there is a growing need for those who are highly proficient in the English language to pass their language skills onto other nations in an effort to further unify communication across the globe.
You can teach from different 'virtual classrooms'
Many different virtual classroom forums such as Skype, Adobe Learning, WizIQ and Zoom are available nowadays which allow for distance one-on-one or small group face-to-face teaching sessions. Because these are visual as well as verbal forums, you can still make use of many of the tools of a traditional classroom environment, such as whiteboards, blackboards, flash cards and physical objects such as fruits and vegetables, etc. to clearly show your students the subject matter of the lesson. This type of lesson, which takes place in 'real time' and allows for instant communication between student and teacher, is known as "Synchronous" learning, and is the most popular method of online teaching for obvious reasons, since feedback between student and teacher is immediate
Online learning can be scheduled to suit your commitments
If it is not possible to hold lessons in real time, there is also the option of conducting lessons which fit in with times which are more convenient to both teacher and student, for instance, taking into account the major time differences between countries world-wide. These lessons, which are termed "Asynchronous" learning, are conducted via email, newsgroups, online bulletin boards, threaded discussions and file attachments which allow both student and teacher to pick up the lesson at a time which is most suitable to them. Such lessons are obviously not recommended for those who are learning the basics of English and are still at the pronounciation or "sounding" stage of learning new words as the methods of verbally repeating or "mirroring" and "drilling" of sentences and words is not possible through just the written form of the word, especially when one thinks of the many different pronounciations of similarly-spelled words.
Become a "digital nomad" and travel the world
When you commit to teaching English online, you become one of the new breed of entrepreneurs who are becoming known as "digital nomads". As such, you are able to offer your services and skills over a virtual platform from any point in the world which has a good internet connection. You could be based in the Maldives, spending your days on the beach and still be able to earn a good living from a few hours' work every day. The best part of teaching is the fact that you are imparting essential knowledge to other people which will enrich their lives and quite literally enlarge their horizons. There are so many advantages to joining the growing number of people who are taking up teaching English as a second language, for instance :
1. You can start your own business where you dictate the number of hours you work each day. If you put in the effort, your reputation will grow to the point where you will be in demand and not have to worry about actively trying to source students yourself. In time, you could even contract other online teachers to work with you, which is a great team-building platform in itself.
2. There is a growing world-wide need to learn English, for any number of reasons. For instance, many software programmes are written in English, so those entering the electronic communications arena will need to be able to learn and master these programmes. Many companies now endeavour to employ those who can speak English as well as their own language, so that they can communicate on an international level. There are programmes which are aimed specifically at teaching English for Specific Purposes (ESP), such as English for those in the medical field, correct Business English and English for particular specialised fields and industries. There is also a trend for call-centres and customer-care lines for international companies to be based in countries such as India, and obviously the employees must be able to communicate effectively with English-speaking callers and be able to resolve problems quickly and without misunderstandings.
3. If you are anything like me, one of your greatest satisfactions in life is being able to empower others through knowledge and skills, and teaching English is the ultimate experience in this regard. Knowing that your students have reached a level of competence and confidence which enables them to widen their personal and business horizons and improve their lives is simply the most amazing feeling. The achievement of goals such as this becomes a force which will turn you, as a teacher, into a lifelong learner who is constantly striving to improve your techniques, approachability, methodology and skill set.
4. You will be provided with the opportunity of helping others who, in a larger classroom setting, may be unable to keep up with the rest of the class and therefore slip through the net without the teacher realising or being able to properly assist them. Online teaching in smaller groups allows for the teacher to schedule additional lessons with any student who is struggling or is too uncertain to express himself in front of others because of the fear of appearing to be stupid to his peers. 'Stupidity' is not a determining factor in teaching; it is usually simply a symptom of a lack of confidence.
Teaching English online is a continual learning process
There is so much involved in teaching English as a foreign or second language online. It stretches both the teacher's skills and knowledge and the student's understanding, abilities and motivation at every point of the lesson. There is no doubt that this form of teaching is not suited to those people who are neither self-motivated nor particularly interested in their subject matter and students. For those of us who view online teaching as an incredible adventure which produces amazing and empowering results, there can be little doubt that this is the right move forward into a new career filled with challenges, geographical independence and the opportunity to travel the world whilst doing something you really love.